The Idaho Master Naturalist Program aims to develop a corps of well-informed volunteers to actively work toward stewardship of Idaho's natural environment.
Who can become an Idaho Master Naturalist?
Any adult who enjoys nature and is interested in learning more. If you enjoy outdoor recreation, bird watching, identifying plants and animals, gardening, and supporting conservation, this program is for you!
Idaho Master Naturalists can volunteer at nature centers, give programs to children, help biologists collect data, monitor wildlife, assist at parks and natural areas, or contribute to many other conservation efforts.
Anyone who enjoys and appreciates Idaho's outdoors can be an Idaho Master Naturalist; teachers, hunters, nature guides, farmers, retired professionals, and . . . you!
Through the Idaho Master Naturalist Program you will:
Participate and guide conservation efforts
Join a statewide network of dedicated, trained volunteers who work toward conservation
Further your education and interest in nature
Have an opportunity to give back to your community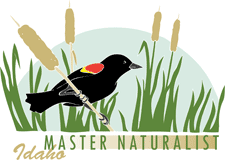 Experience
Learning new things
Meeting new people
Idaho's natural world
Connect
With nature
With your community
With others who have similar interests
With professionals
Contribute
Help conserve Idaho's environment
Collect scientific data
Teach childre