The headquarters office, located in Boise, is organized into the Directors Office, comprising the executive team, and bureaus representing Department functions: Administration, Fisheries, Wildlife, Law Enforcement, Communications, Human Resources, Information Systems and Engineering. Each bureau is responsible for direction and consistency for programs implemented in the regions by regional staff.
Directors Office - (208) 334-3771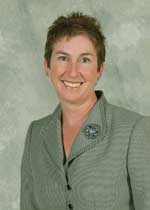 Sharon Kiefer,
Deputy Director - Programs and Policy
Sharon Kiefer has worked in wildlife management for 26 years and has worked for Idaho Fish and Game for 24 of those years, holding various management positions, including inter-governmental policy coordinator and anadromous fishery manager.
Kiefer holds a Bachelor of Science degree from Stephen F. Austin University and a Master of Science degree from Texas State University.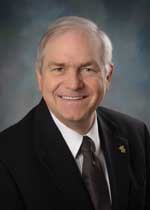 Virgil Moore,
Director
Virgil Moore was appointed director in March of 2011. He has 40 years of experience in wildlife management, 37 years with Idaho Fish and Game.
Moore has held numerous executive management positions within Idaho Fish and Game, including fisheries bureau chief, information and education bureau chief and various management positions within the fisheries bureau.
Moore holds a Bachelor of Science degree in biology and education from Northwest Missouri State University and a Master of Science degree in zoology from Idaho State University.
Ed Schriever,
Deputy Director - Operations
Ed Schriever has worked for the Idaho Department of Fish and Game for 31 years, starting as a fish culturist and moving up through the ranks, serving seven years as the Clearwater Region's Fisheries Manager before becoming Fisheries Bureau Chief in 2008.
Ed holds a B.S. in Fisheries Science from Oregon State University.
Bureaus / Headquarters Offices
Legal
(208) 334-3715
Deputy Attorney General: Kathleen Trever
Deputy Attorney General: Owen Moroney
Administration
(208) 334-3781
Bureau Chief: Michael Pearson
Human Resources
(208) 334-3773
Resource Officer: Gina Hodge
Communications
(208) 334-3746
Bureau Chief: Alan Kahn
Engineering
(208) 334-3730
Bureau Chief: Mike Maffey
Information Systems
(208) 287-2866
Bureau Chief: Bob Ross
Enforcement
(208) 334-3736
Bureau Chief: Greg Wooten
Fisheries
(208) 334-3791
Bureau Chief: Jim Fredericks
Wildlife
(208) 334-2920
Bureau Chief: Scott Reinecker