Question: Snow covers the land and game animals look hungry as they search for food through the cold blanket. Why isn't someone feeding them?

Answer: That question arises every time an Idaho winter is severe enough to bring game animals down out of the hills into contact with humans. To the good-hearted citizen and concerned sportsman, meaning most of the people in this state, the answer may seem simple. Wanting to do the best we can for animals, domestic or wild, is basic human nature.
The Idaho Department of Fish and Game wants the best for wildlife, too. Furthermore, Fish and Game is legally required to preserve, protect and manage Idaho's wild game resources.
Some people do not understand, then, why Fish and Game is cautious about establishing feeding programs and why it may appear reluctant to do so.
The reasons for Fish and Game's policies and actions have been formed through decades of experience and study. Once examined, they are really not difficult to understand and they have everything to do with the good of Idaho's big game.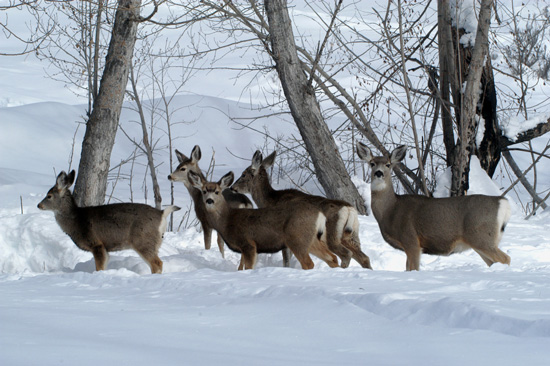 The Idaho Fish and Game Commission recognizes that big game populations should be maintained under natural conditions and by natural available forage. Winter food is the major limiting factor which determines the basic size of the big game populations and it must be maintained if these animals are to prosper and propagate. In order to maintain these winter ranges, big game numbers must be controlled through adequate harvest. We, therefore, do not sanction any widespread supplemental feeding programs.
We are aware that big game harvests and weather will vary from year to year throughout the state. In most years, snow depths and temperatures do not create adverse conditions for wintering animals. However, there are times when unusual weather patterns may create critical periods of stress when winter forage becomes limited, unavailable, or animals are forced into areas involving public safety. We recognize that we cannot manage game populations for these extreme weather situations-nor should we. When the Idaho Department of Fish and Game, through investigation by field personnel, determines that a critical situation exists, . . . the department will provide artificial feed to wintering game animals only during those periods of critical stress.
The intention of this policy is to provide emergency feed for big game animals only during those periods of critical stress and not as a sustaining program which would carry larger game populations than the range can normally support.
If Fish and Game Doesn't Feed, Why Shouldn't I?
Fish and Game generally discourages private citizens from feeding big game because it is difficult to obtain feed that will actually sustain wild game animals. For instance, deer will eat hay readily but can actually starve if that is the only feed they have. Also, once a feeding program is begun, animals must be fed until they are ready to move back to natural forage; some private feeders may not be prepared for the long haul.
Selecting good locations for feed sites can be tricky. Several bad situations have been created where private feeders lured animals too close to livestock and stored crop operations with severe results for the farmer or rancher. Safety is another consideration. Some private feeding operations have been established too near roads.
Keeping Wild Animals Wild
Big game animals adapt quickly to new situations, as nature meant them to for survival. They easily learn new patterns of feeding and soon come to count on human help. Fish and Game has an obligation to wild animals to prevent them, whenever possible, from becoming anything but wild. Supplemental feeding can interrupt long-established migrations and creates behavior alterations.
Though nature may seem unkind sometimes, it is perfectly natural that 10 to 15 percent of deer and elk will not survive a mild winter; more die in a harsh winter. Animals ill-equipped to survive are taken from the herds by starvation, accidents, predators, exposure (freezing), diseases and parasites. Feeding may save a few from starvation but does nothing to halt losses from other causes.