Every year hunters return over-the-counter elk tags, including the highly sought after capped zone tags. Fish and Game staff have created a transparent process to provide these returned tags on a first come, first serve basis. Returned tags are sold the second and fourth Thursday of each month at 10 a.m. MDT, starting April 23 for nonresidents and July 21 for residents. 
Hunters can view available tags the Tuesday prior to each sale date by going to the nonresident and resident tag quota pages. 
Nonresident Tag Quotas
Resident Tag Quotas (resident tags go on sale in July)
To purchase a returned tag online, you will need to log in to your account on the Fish and Game purchase site at idfg.huntfishidaho.net.  If you do not have an elk tag already, you can purchase a returned tag through the normal process by using the "Purchase a License, Tag, or Permit." 
If you already have an elk tag, and would like to exchange it for a returned tag, you will need to use the "Limited Tag Exchange" tab.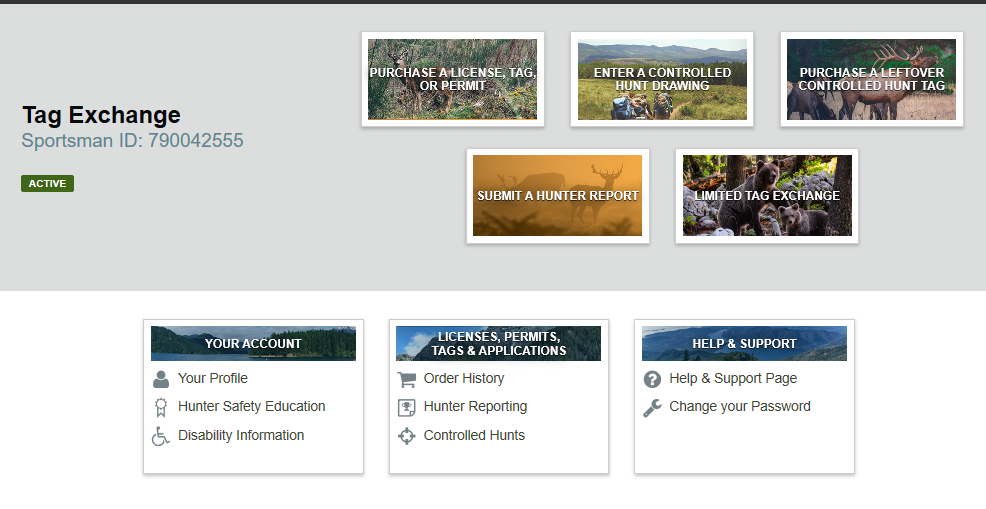 The tag you currently own will be shown. Select "exchange"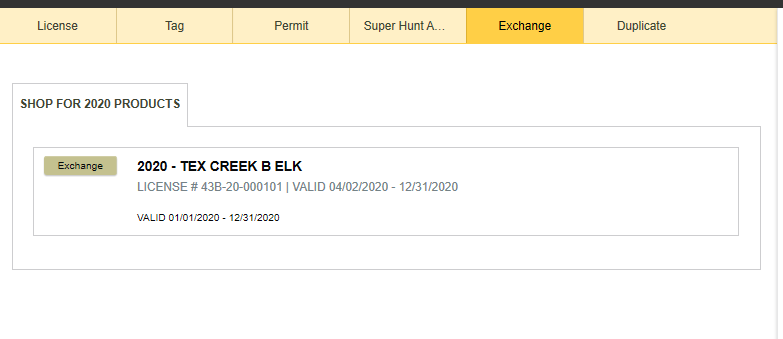 Select the new tag by clicking "exchange". Only available returned tags show in this list.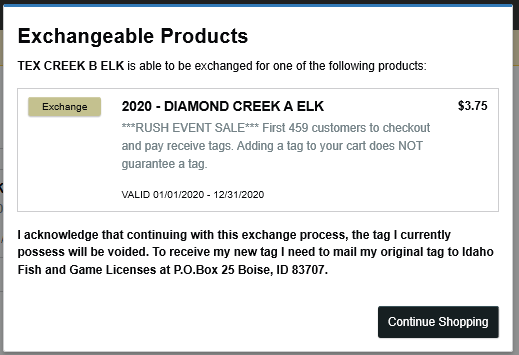 You must complete the purchase process and payment details in order to secure the tag. Hunters must also follow instruction in the confirmation email to return their previously held tag before the exchanged tag can be issued.  
If you see that no tags are available, then tags have either been sold out, the sale has not started, or you are ineligible to purchase this product.  Ineligibility may be due to missing archery education certification in your profile, when trying to purchase an archery-only tag.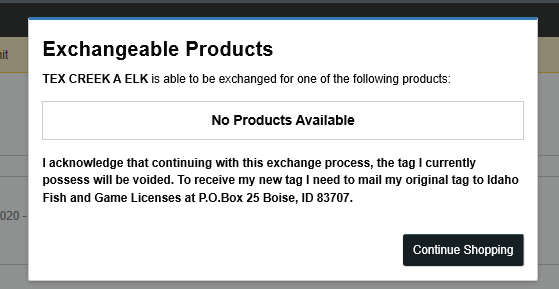 It's possible a tag will sell out after you've added it to your cart.  When this happens, you'll see one of these messages: