The Nature Center now has three Web Cams! You might see the goose nesting box, the view from the kiosk or the popular underwater view in the Alpine Lake. For now, we select the view most likely to entertain you as we do not yet have the ability to stream all three views or allow you to choose. Who knows what you'll see today (or tonight) at the MKNC!
Look for:
Rainbow and steelhead trout - black spots everywhere and white fin tips;
Cutthroat trout - these are Westslope cutthroats, big round black spots, not so much on the head and belly, rosy cheeks, cutthroat slash only visible if they roll over for you or if you get below them;
Two of Idaho's 6 native suckers, Largescale - they have large scales, and Bridgelip - they don't have large scales and are typically smaller. They will be vacuuming algae from the gravel, rocks and logs.
Crayfish - also known as "crawdads", are plentiful and although nocturnal, they are commonly seen during the day.
Occasionally a mink will swim through looking for a meal.
Rarely, and mostly at night during the winter, a beaver might show up.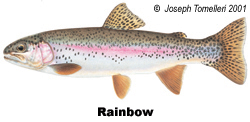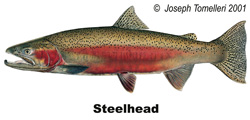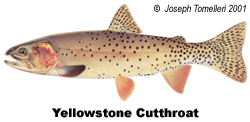 MKNC FishCam
- An underwater ecosystem
in your living room, classroom, iphone…
To view the FishCam in a
separate window
...

Wildlife webstream sponsored by Biomark, Inc.
---
Requires Flash Player ver. 11 or greater.

[Closing and Restarting Browser may be required.]