— Photo © Lewis-Clark Wildlife Club
Lewis-Clark Wildlife Club Public Shooting Range
Southeast of Lewiston, the Lewis-Clark Wildlife Club Shooting Range has several range distances to accomodate different types of firearms.
The Lewis-Clark Wildlife Club Shooting Range is located on South Tom Beall Road. The range features benches for shooting rifles or pistols and a voice-activated automatic clay pigeon trap machine for shotgun practice.
Range features:
Six benches for shooting rifles or pistols out to 100 yards and 18 more benches with a maximum of 500 meters. 
On-site restrooms are accessible to physically-challenged shooters.
A classroom available for training and classes.
Operation Hours and Fees
Call the range at (208) 843-2987) to hear a recorded message with the days and hours of operation. During December, January and February, the range is open Friday, Saturday and Sunday from 9 a.m. - 3 p.m. For all other months (March through November), the range stays open an hour later until 4 p.m.
Memberships are $60 a year and a range fee of $20 for nonmembers. Range cannot accept credit cards. Other small fees for shotgun trap and chronograph use. The range also has paper or clay targets for sale.

Plenty of parking close to the facility.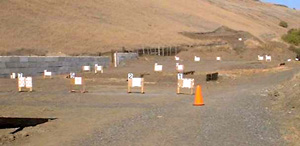 Wide berms accommodate various shooting distances.