The Wildlife Diversity Program operates on an annual budget of approximately $2 million. This is less than 3% of the total Fish and Game budget.  Roughly 50% of the budget comes from the generosity of people like you!
Conservation programs not related to hunting or fishing get no money from the sale of hunting of fishing licenses or from the state general fund.
Wildlife License Plates
Get yours today!
Purchase a wildlife specialty license plate and show your support of Idaho's wildlife!
Fish and Game receives money from each plate:
Buying a $35 bluebird plate will give $24.50 back.
Buying a trout or an elk plate returns $21.
It doesn't matter what plate you chose - wildlife wins either way!
The money also provides critical matching dollars for federal grants and partnerships with federal natural resource agencies.
Donations
If you enjoy the birds and other wildlife, consider a tax deductable donation to the Nongame Conservation Fund, which directly supports projects that benefit our wildlife and their habitats.
Make a check payable to "IDFG" with "Nongame Conservation Fund" in the memo section and mail your check to:

IDFG
Idaho Wildlife Diversity Program
PO Box 25
Boise, ID  83707
All donations are tax-deductible!
Thank you!
Tax Check-off For Wildlife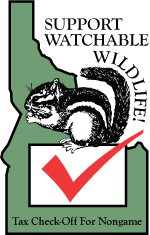 Please remember Idaho's nongame wildlife when completing your taxes.  On the second page of the Idaho Individual Tax form 40 you have the opportunity to donate to the "Nongame Wildlife Conservation Fund".
Check-off this box on your next return or ask your tax preparer to mark the Nongame check-off on your behalf.
Donations contribute to a wide variety of programs and projects, such as: 
threatened, endangered & sensitive species management & research;
habitat improvements;
wildlife viewing events, trail maintenance,interpretive signs;
wildlife rehabilitation support;
wildlife publications and classroom materials;
MK Nature Center materials and programs;
Project WILD teacher training.

Proceeds from the sale of specialty wildlife vehicle license plates, state income tax check-offs, and donations help us do things like the following:
Managing a coniferous forest for the northern alligator lizard which could also benefit elk.
Restoring wet meadows for rare plants, like Idaho phlox and Ute ladies' tresses, which also will provide forage areas for waterfowl and sandhill cranes.
Conducting seasonal sage-grouse lek counts to identify and monitor habitat use.
Monitoring the western grebe with boat surveys to estimate total numbers and to count chicks to assess productivity.