Multiple seasons of elk poaching have ended poorly for two men who now face jail time, hunting license revocations and thousands of dollars in fines and restitution to the citizens of Idaho for their crimes.
An anonymous call to the Citizens Against Poaching (CAP) hotline started it all.
In September 2016, Jonathan Blaschka (36) of Mountain Home and his companion, Charles McCall (41) also of Mountain Home, gunned down two bull elk during an archery only season near Yellow Pine, Idaho. This, despite the fact that both men held valid archery elk tags for the area. Blaschka returned to the Yellow Pine area in September of 2017 and used a rifle to poach a large bull elk and a cow elk, again during the archery only season.
Using information obtained via the CAP hotline, Fish and Game conservation officer Jon Hunter and a team of other officers launched an investigation that involved multiple interviews with several individuals. The investigation led to the seizure of a firearm, cell phone, elk antlers and elk meat stored at Blaschka's Mountain Home residence. In one text message found on Blaschka's cell phone, he bragged about shooting multiple elk, wounding another and shooting until he ran out of bullets. This and other similar evidence contributed to the formidable sentencing he experienced this spring.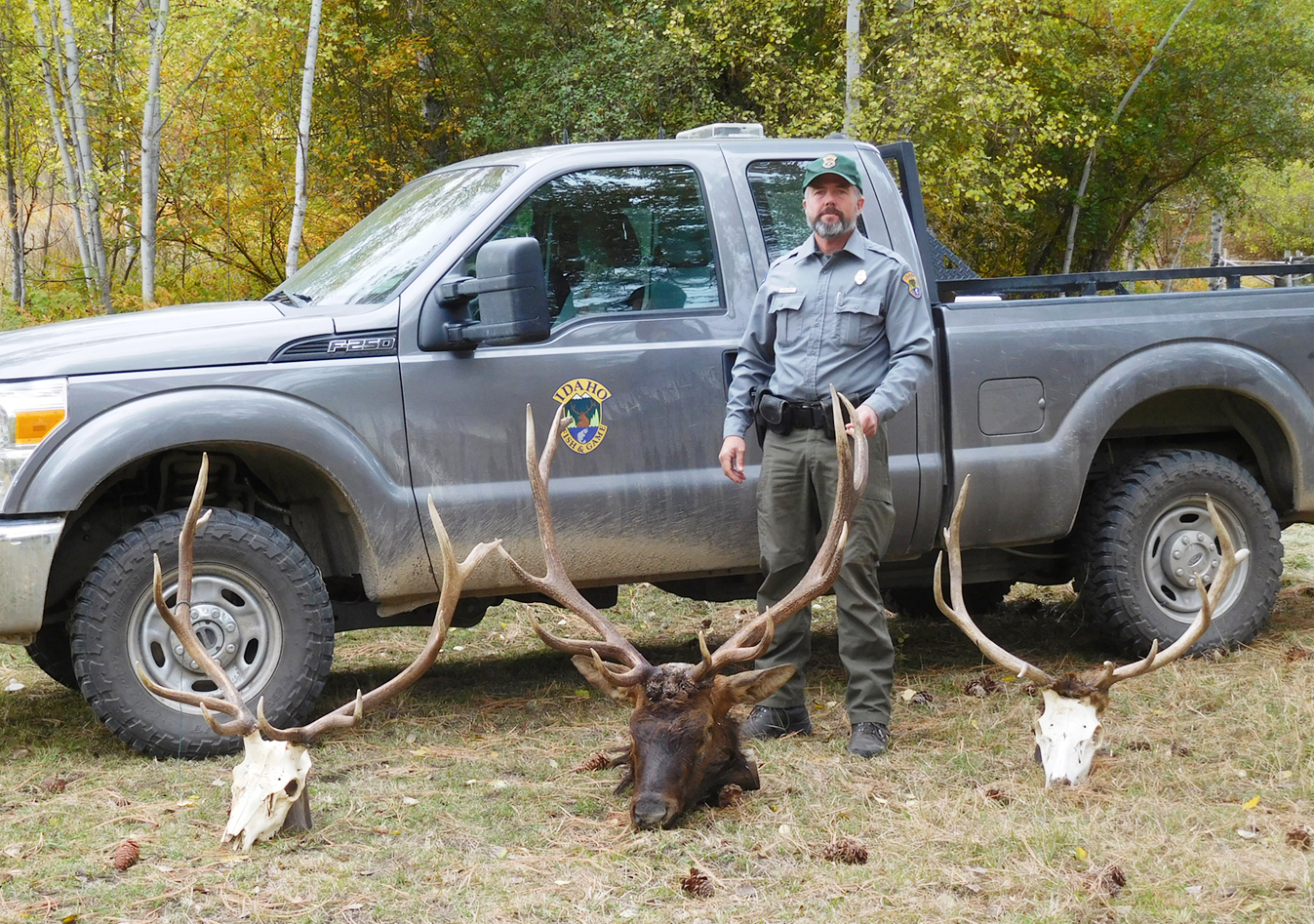 Conservation Officer Jon Hunter with the three illegally-taken bull elk
In early April 2018, Blaschka appeared in a Valley County courtroom for formal sentencing by Judge Lamont Berecz on seven wildlife violations including two counts of poaching a bull elk, two counts of possession of an illegally-taken bull elk, poaching a cow elk, possessing an illegally-taken cow elk and using an elk tag belonging to another person.
Blaschka was sentenced to 30 days in jail, to be served during the next four months, and was ordered to pay nearly $9,000 in fines, court costs, processing fees and restitution. His hunting privileges were suspended for four years, and he also received two years of unsupervised probation.
For his part in the poaching spree, McCall was fined $1,380 and lost his hunting privileges for one year.
Conservation officer Hunter credits the successful outcome of the case to the concerned citizen who brought the suspected poaching to the Fish and Game's attention. "With an average patrol area of over a thousand square miles, Idaho Conservation Officers cannot be everywhere at once," he noted. "We depend on ethical hunters to be our eyes and ears in the field and encourage them to report illegal wildlife activities."
Report suspected wildlife violations by calling the Citizens Against Poaching (CAP) hotline at 1-800-632-5999 twenty-four hours a day. Callers can remain anonymous and may be eligible for a cash reward. In addition to the CAP hotline, persons with information regarding suspected wildlife crimes may also contact the Fish and Game Nampa office at 208-465-8465 or the Fish and Game McCall office at 208-634-8137 weekdays and Idaho State Police at 208-846-7550 on weekends.
- IDFG -