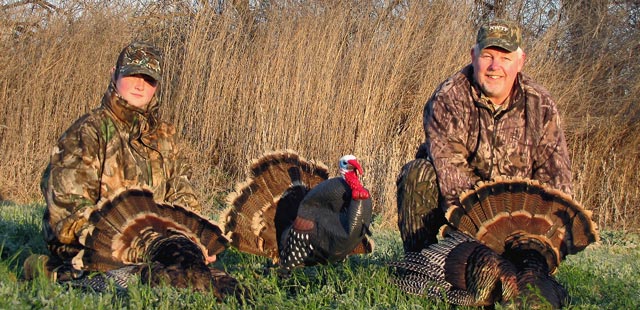 Taking a youngster turkey hunting for the first time is popular among sportsmen and women.
Idaho encourages the focus on young hunters by dedicating the week leading up to the spring turkey hunt to youth-only hunts.
A youngster must be 10 to 15 years of age to hunt in a youth-only general season or controlled hunt. They must be accompanied by a licensed adult 18 years of age or older.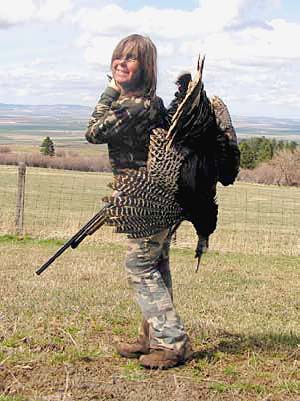 Mentored Youth Turkey Hunt
Patience and perseverance paid off when Bailey Cullin of Grangeville took her first turkey during Idaho's youth turkey hunt.
Bailey was one of two outstanding students from her hunter education course chosen for a special mentored youth hunt in the Clearwater Region. Her mentors included District Conservation Officer George Fischer.
Read more
about Bailey's adventure and mentoring young hunters.

Director's Youth Turkey Hunt
Idaho's National Wild Turkey Federation (NWTF) Chapters organize a special youth turkey hunt with the Director of Idaho Fish and Game.
Frequently it is fashioned as an auction item and sold at a NWTF banquet.
The special hunt helps publicize the NWTF and the work it does for turkeys in Idaho. More importantly it sets the stage for a memorable hunt for a young hunter and their parents.
Licenses and Tags for YouthResident Youth
Junior Hunting License (12-17 yrs) 
 $ 7.25
Junior Turkey Tag 
 $ 10.75
Extra Junior Turkey Tag 
 $ 10.75
Nonresident Youth
Jr. Mentored Hunting License (12-17 yrs) 
 $ 31.75
Jr. Mentored Turkey Tag 
 $ 19.75
Extra Jr. Mentored Turkey Tag 
 $ 19.75