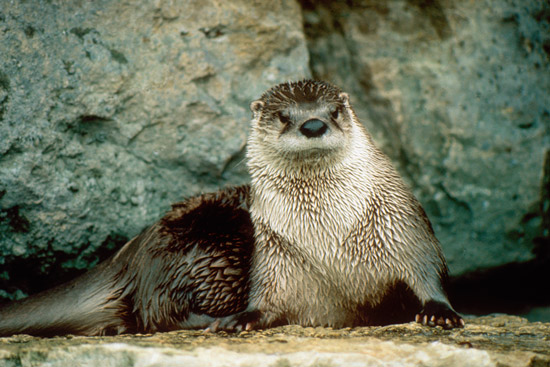 Trapping Seasons
The river otter trapping season opens October 22 in the Southeast, Upper Snake, and Salmon Trapping Regions, and November 1 in the Panhandle, Clearwater, Southwest and Magic Valley Trapping Regions.

All seasons close no later than March 15 statewide.
The map on this page shows the counties within each trapping region. The chart displays the status of each region for the trapping season.

The river otter season will close in each region 72 hours after the harvest quota for that region is reached.

Trappers will be allowed to keep otters within this 72-hour period provided their personal quota of 2 has not been filled.
River Otter Harvest Information

Updated: March 15, 2016

Trapping Region
Harvest Quota
Number Harvested
Harvest Quota Remaining
Status
Season Dates
Panhandle
40
40
0
CLOSED
Nov 1 - Mar 15
Clearwater
20
19
1
CLOSED
Nov 1 - Mar 15
Southwest
20
20
0
CLOSED
Nov 1 - Mar 15
Magic Valley
30
17
13
CLOSED
Nov 1 - Mar 15
Southeast
15
6
9
CLOSED
Oct 22 - Mar 15
Upper Snake
15
14
1
CLOSED
Oct 22 - Mar 15
Salmon
15
11
4
CLOSED
Oct 22 - Mar 15
TOTALS
155
127
28
 
 
Seasons close when harvest quotas are met or season ends.
Please call 1-800-323-4334 for the most up-to-date information on harvest limits and closures.
Trapping Regions
Panhandle - Benewah, Bonner, Boundary, Kootenai and Shoshone counties.
Clearwater - Clearwater, Idaho, Latah, Lewis and Nez Perce counties.
Southwest - Ada, Adams, Boise, Canyon, Elmore, Gem, Owyhee, Payette, Valley and Washington counties.
Magic Valley - Blaine, Camas, Cassia, Gooding, Jerome, Lincoln, Minidoka and Twin Falls counties.
Southeast - Bannock, Bear Lake, Bingham, Caribou, Franklin, Oneida and Power counties.
Upper Snake - Bonneville, Butte, Clark, Fremont, Jefferson, Madison and Teton counties.
Salmon - Custer and Lemhi counties.