Draft Gray Wolf Management Plan 2023-2028
Idaho Fish and Game is seeking comments on its Draft Gray Wolf Management Plan 2023-2028. This plan will provide guidance for staff to implement management actions that will aid in the management and conservation of furbearers and predatory wildlife.
Review the draft plan below and submit comments by March 6, 2023, at 8 a.m. MST.
Draft Gray Wolf Management Plan 2023-2028
A draft Idaho Gray Wolf Management Plan: 2023 – 2028 is available for review by all interested parties for 30 days. Comments may be submitted on the draft plan through March 6.
Since the U.S. Fish and Wildlife Service reintroduced wolves in 1995, the Idaho population has grown to fluctuate around 1,270 wolves annually. Idaho's population alone is above what the U.S. Fish and Wildlife Service considered to be the carrying capacity for the entire the Northern Rocky Mountain states of Idaho, Montana, Wyoming, Oregon, and Washington. The population has remained robust and has proven resilient to human-caused mortality. Wolves continue to cause chronic conflicts with livestock and other domestic animals in many parts of the state, and wolf predation has been identified as a primary factor preventing recovery of several elk zones that are below objective.
This draft Idaho Gray Wolf Management Plan incorporates knowledge gained from nearly 3 decades of wolf monitoring and management about how wolves use Idaho's landscape, interact with native ungulates and livestock, and react to different levels and types of harvest. Designed to span 6 years, this plan identifies goals and strategies to reduce wolf numbers and to manage Idaho's wolf population to fluctuate around 500 animals. The Plan also describes mechanisms for moderating wolf mortality as the population approaches 500, improving monitoring techniques, and managing wolf conflicts with livestock and ungulates. Public input will be considered to make improvements to the draft plan. A final plan will be prepared and presented to the Fish and Game Commission to be considered for adoption at a future meeting.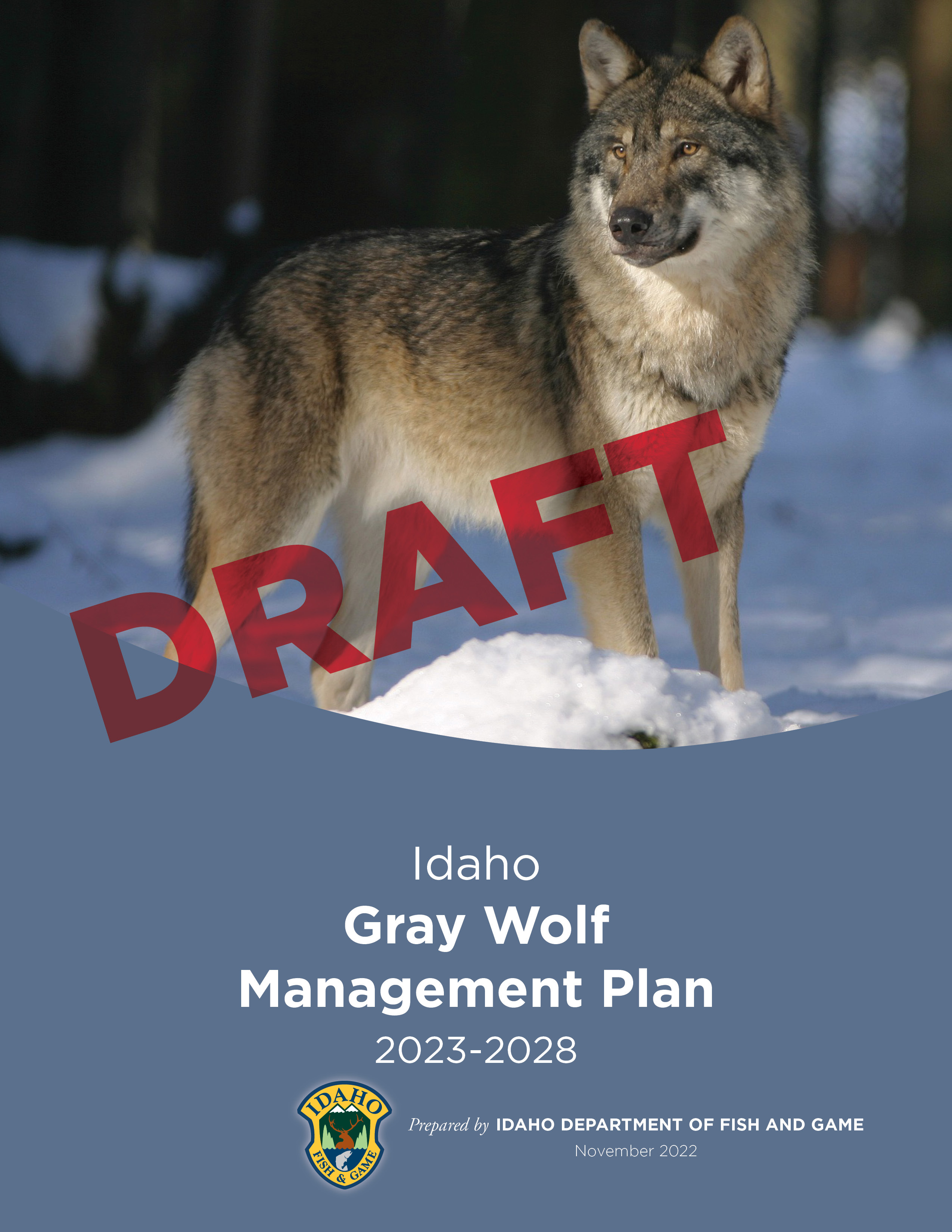 DOWNLOAD DRAFT PLAN
[PDF 4.04 MB, 50 pages]
Public Comment Instructions
We welcome comments for any part or all of the Draft Gray Wolf Management Plan 2023-2028. Please review the plan and acknowledge if you generally support, support with concerns, or do not support. Address items of support or concern in the "general comments" section.
Referrals to specific sections or pages in the plan are very helpful.