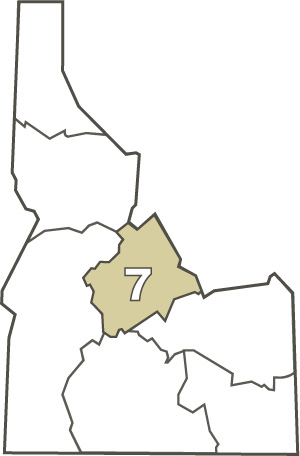 If you wish, select another
Region to visit...

FFWaters Home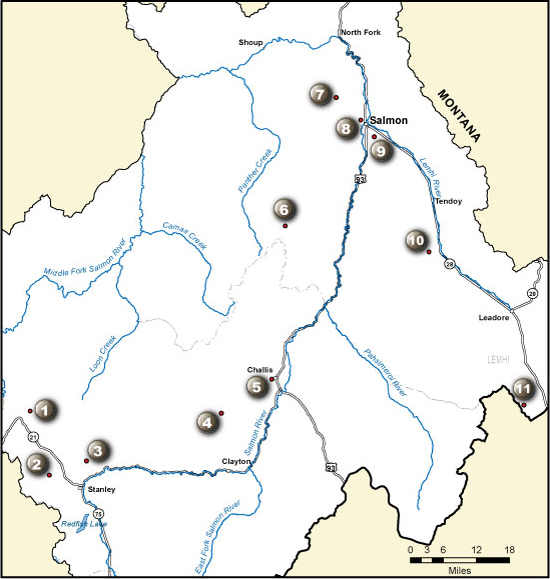 Water
Description
Directions
Fish
Facilities
1. Capehorn Lake
A picturesque lake endowed with fish, lilly pads and frogs, A pretty spot to fish for brook and rainbow trout, especially from float tubes.
From Stanley go west on State Highway 21. Turn right (north) off Hwy 21 onto Forest Service Road (FR) 008. Follow road for about 1.5 miles. Turn right (south) at sign for Bradley Memorial Camp and Capehorn Lakes (FR 003). Road splits, veer left and follow FR 003 to the lake.
Rainbow trout
No Facilities Available
2. Stanley Lake
A beautiful large mountain lake you can drive to. This scenic spot offers great camping, fishing and places for kids to explore nature.
From Stanley, go west on State Highway 21 about 5 miles. At the Stanley Lake Road sign, turn left off Hwy 21 and follow sign to the lake.
Rainbow trout, kokanee, lake trout
3. Big and Little Bayhorse Lakes
Offer a scenic escape from the summer heat. Anglers will find good catch rates at these two drive to mountain lakes, whether fishing from shore or a small boat.
On State Highway 75 look for milepost 236 (45.5 miles west of Stanley) At milepost 236 and Bayhorse Lake sign, turn north onto Forest Service Road (FR) 051. Follow road to the lakes. Note: This dirt road is narrow and steep. While trailers are allowed caution is advised.
Rainbow trout
4. Blue Mountain Pond
A park like pond adjacent to the golf course in Challis. Kids will enjoy fishing from the banks and having a picnic in the pond's two gazebos.
From U.S. Highway 93 in Challis go west on Main Street. Follow Main St. to Second Street. Turn left and drive 4 blocks to the end of the road. Park and walk to the pond (60 yards).
Rainbow trout
5. Iron Lake
A beautiful remote lake with good camping and fishing, but be prepared to drive a rough mountain road to get there.
From Salmon, travel 5 miles south on US Highway 93. At Shoup Bridge turn right and cross the Salmon River onto Forest Service Road (FR) 021. Continue west on FR 021 for 20 miles. Turn left on FR 020 and travel south approximately 21 miles. Note: Forest Service Road 020 is a narrow, rough road requiring slow and careful driving. Not recommended for RVs and trailers.
Rainbow trout
6. Wallace Lake
Offers a summer fishing retreat to a beautiful mountain lake. Kids will enjoy fishing from the shore and exploring the woods. Wait until the snow comes off in July to make this trip.
From Salmon, ID, take US Highway 93 north 2.9 miles to Stormy Peak Road and Wallace Lake sign. Turn left (west) after sign but before bridge over Salmon River, and go 0.6 miles to a "Y" intersection. Bear left onto Forest Service Road (FR) 023 (gravel) and go 11.6 miles to Wallace Lake sign just before an intersection. Turn left at intersection and go 3.9 miles to a "Wallace Lake Campground sign." Turn left at sign and go 1 mile to campground. Lake can be accessed from campground.
NOTE: The last mile is very rough, rocky, and steep, as is the campground interior road. Not recommended for trailers and RVs.
Rainbow trout
7. Hyde Pond
A small irrigation pond surrounded by sage brush. The banks provide a safe fishing spot for beginning anglers.
From Salmon take US Highway 93 south approximately 4 miles and turn left (east) on the road leading to the airport. Continue straight past the airport road to the 'T' intersection. Turn right (south) towards Sunset Heights and continue for 1.4 miles until pond is visible on the right.
Rainbow trout
No Facilities Available
8. Kids Creek Pond
A small fishing pond in downtown Salmon with good trout fishing. In the spring hatchery steelhead, returning to Pahsimeroi Hatchery, are released in the pond for a rare fishing opportunity.
From Salmon take US Highway 93 south for 0.5 miles. The pond is on the left (south) side of the road and marked by a large sign.
Rainbow trout
9. Hayden Creek Ponds
Provide fishing in a safe, park-like setting. Anglers will find good bank fishing and a dock for anglers with limited mobility.
From Salmon, take State Highway 28 south for 24 miles. Turn right (west) on Hayden Creek Road (Forest Service Road 008) and go approximately 3 miles. Ponds are located on left side of road and can be accessed by walking across the bridge.
Rainbow trout
10. Meadow Lake
The highest mountain lake you can drive to in this region. It's a beautiful setting for a fishing and camping weekend.
From Leadore, drive 17 miles southeast on State Highway 28 and turn right (west) onto Forest Service Road 002. Follow the gravel road approximately 6 miles as it climbs 2,080 feet to the lake.
Rainbow trout
Blue symbols show facilities accessible to disabled persons.