Rules, Safety and Supervision
All Customers Must Sign-in with the Range Safety Officer Before Proceeding to the Ranges
All range activities are monitored and supervised by a NRA Certified or similarly credentialed Range Safety Officer (RSO) present on-site each day of operation. The RSOs act under the direction of the Idaho Department of Fish and Game. 

Range Safety Officers are there to assist you and enforce the range rules that keep you safe. They are there to help you have an enjoyable experience at the Farragut Shooting Range so if you have a question about the range or it's use, please ask them. While they may be able to offer a word of friendly shooting advice or assist with a common firearm malfunction, RSOs are not shooting coaches or gunsmiths. If you desire firearms training or have a firearm with a significant malfunction, please seek the services of a trained professional.
Range Rules and Regulations
All shooting range users must check in with the Range Safety Officer and sign an acknowledgement that they have, read, understood and agreed to follow these "Rules and Regulations."
Range users who fail to comply with Range Rules, Signs Posted at the Range, or Range Safety Officer or other staff instructions are subject to immediate eviction from the Range, with no refund of fees, and loss of Range privileges.
In case of an emergency contact the Range Safety Officer or park staff at the Visitor Center immediately or Dial 911! All accidents must be reported to the park Visitor Center immediately!
Children under the age of 18 MUST be accompanied and supervised by an adult at least 21 years of age. An adult may not supervise more than 2 minor children or more than 1 child under the age of 12. An adult may not oversee more than 2 adjacent shooting points at any one time. A supervising adult may not shoot concurrently with a minor child without the consent of the Range Safety Officer on duty.
All shooting must be done from designated shooting points toward established backstop impact areas or shot-fall zones in the case of shotguns. Shooters may only fire upon targets within the shooting lane established for the shooting point they are using. All areas of the Range are closed to use of firearms with live ammunition unless specifically designated as "open."
Drugs and Alcohol are prohibited on the range. Anyone suspected of being under the influence of alcohol or drugs is prohibited from being at the range.
No camping, fires, or pets are allowed at the Range.
Vehicles must be parked in designated areas. Vehicles must not be driven onto the firing line and/or used to access down-range areas.
Users must pack out all trash or deposit it in a designated trash receptacle.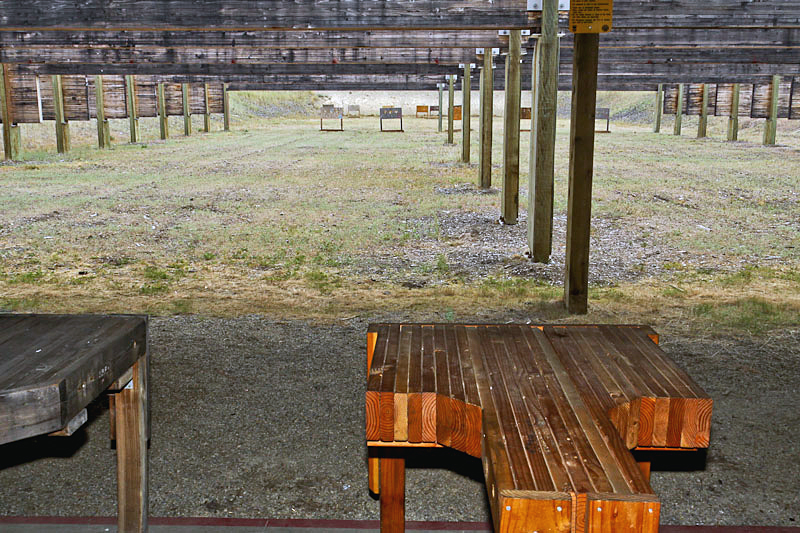 CAPTION: Downrange view of 100 yard range with shooting benches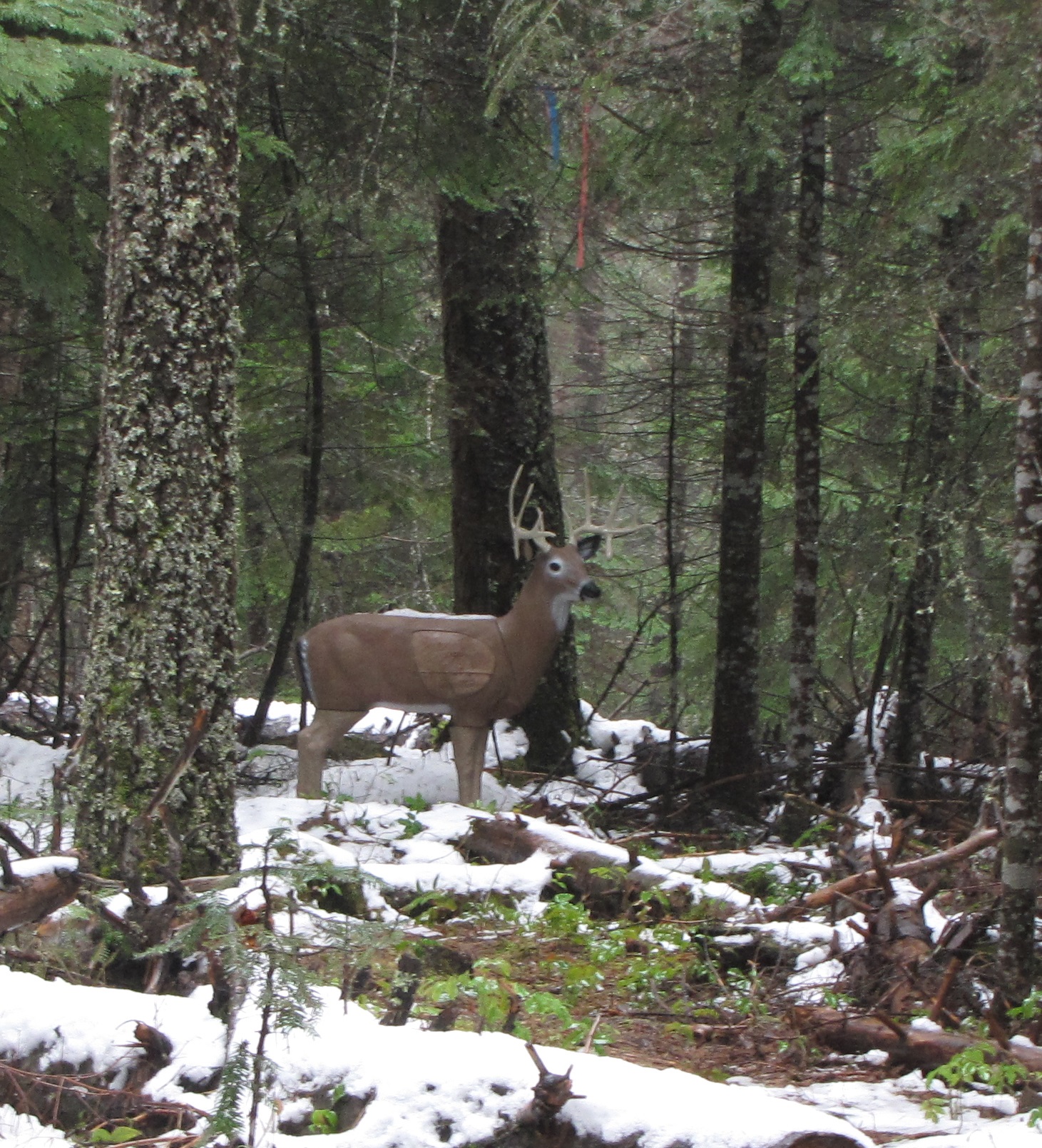 CAPTION: 3D archery range target, buck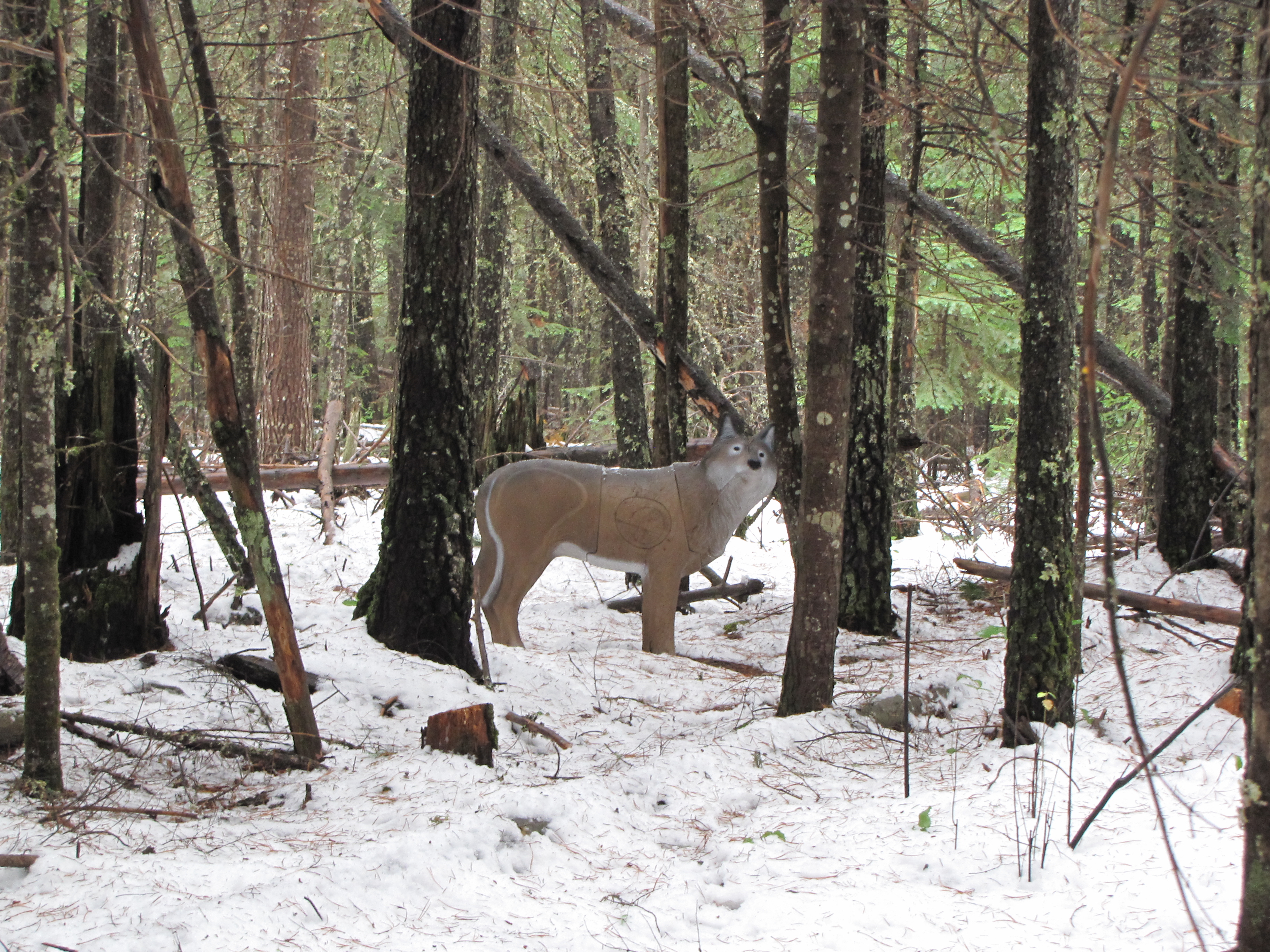 CAPTION: 3D archery range target, wolf