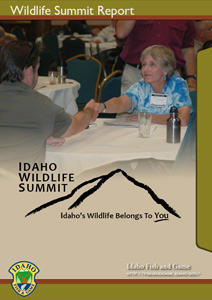 Idaho Wildlife Summit Report
The Idaho Wildlife Summit, held in August, 2012, facilitated a conversation among Idaho hunters, anglers, trappers and other wildlife conservationists. Discussions and presentations covered the current status and direction of wildlife management in Idaho, the need to keep it relevant to the changing values, needs, and interests of Idahoans, and to hear and understand what they expect from their state wildlife management agency.
Participants heard presentations and watched various videos presented throughout the program. They were invited to provide input throughout the Summit in a variety of ways. The report also includes the executive summary from a survey of 1,059 randomly selected Idaho residents conducted earlier in 2012, for Idaho Fish and Game.  
Full Report

Report Sections
Reflections of the Wildlife Summit