Books for Sale
To order, make check payable to
Idaho Department of Fish and Game
and mail with request to:

Watchable Wildlife Program,
Idaho Department of Fish and Game
PO Box 25
Boise, ID 83707
---

Idaho Birding Trail
Cost: $5.00 (includes tax).
With 175 sites and about 2,000 miles of trail, the birding trail represents a collection of bird watching hot spots, diverse habitats, and a glimpse of Idaho's rich natural heritage. This 135-page guidebook includes directions, descriptions and maps of every site on the trail. The guidebook was developed by Fish and Game in collaboration with local birders and other state and federal partners.
---

Idaho Wildlife Viewing Guide
Cost: $10.00 (includes tax)
Here is your chance to see wildlife of all sizes, shapes, and kinds! In this guide are 100 sites of the best wildlife viewing sites all across Idaho. Each site is clearly described with locator maps, driving directions, best times to view wildlife, and the type of animals found there.
---

Birds and Birding Routes of the Idaho Panhandle
Cost: $3.00 (includes tax).
Explore 10 different birding routes of the Idaho Panhandle clearly described with driving directions, maps, and types of birds found there. Roberts describes birding points of interest, bird habitat charts, bird arrival dates, and preferred habitats.
---
Birds of East Central Idaho
Cost: $5.00 (includes tax).
This book includes abundance rating, habitats, and distribution for birds in East Central Idaho. Eight different birding "hot spots" are listed with dates when peak numbers of birds are present.
Nongame Wildlife Leaflet Series
This free Leaflet Series includes general descriptions for groups of species in Idaho or the habitats they live in.
Windows to Wildlife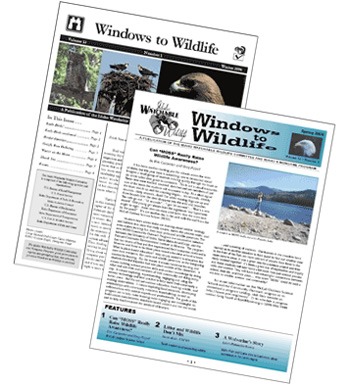 Windows to Wildlife is a quarterly newsletter of the Idaho Watchable Wildlife Committee and Idaho's Wildlife Diversity Program.
This newsletter provides readers with information about nongame wildlife activities, research and viewing opportunities.
Subscriptions are available by donation to the Idaho Wildlife Diversity Program through the following methods:
purchase a wildlife license plate;
make a nongame tax donation (nongame tax check-off on your tax form);
make a tax-deductible donation to the Idaho Wildlife Diversity Program or
view for free on-line!
If you would like a subscription or need to update your current one, contact the editor.
Thank you for supporting Idaho's nongame wildlife!