The Idaho Fish and Game Commission on Friday, Dec. 7 approved an agreement to keep most steelhead seasons open, but steelhead fishing in two areas closed effective 11:59 p.m. Dec. 7, 2018. 
Closure areas include: 
The Main Salmon River between Warren Creek and the Copper Mine Boat Ramp. 
South Fork of Clearwater River upstream of the Mount Idaho Grade Bridge. (See maps below)
The commission also acted to continue the one steelhead daily bag limit through the end of 2018 and into the 2019 spring season. 
"I'm glad our anglers and outfitters can continue steelhead fishing," Fish and Game Director Virgil Moore said. "It's unfortunate that a delay in receiving federal authorization for our recreational steelhead fisheries created contention and hardship for river communities and anglers. This resolution achieves the commission's objective to limit impacts to steelhead fishing as much as possible while we remain focused on finally receiving federal approval of our steelhead fishery plan for the long term."
The continuance of steelhead fishing results from an agreement between Fish and Game, the Idaho River Community Alliance, Inc. and five groups that threatened to sue Idaho officials over the lack of federal authorization for steelhead fishing in the Snake, Salmon and Clearwater River systems. 
Moore said he appreciates various parties working together, and commended Idaho Rivers United for dropping its involvement in a potential lawsuit and helping forge the agreement among the various groups. 
The agreement is in effect until the National Marine Fisheries Service (NMFS) approves Idaho's steelhead fisheries plan under the Endangered Species Act, or March 15, 2019, whichever date is earlier.
As part of the agreement, members of the Idaho River Community Alliance, Inc. will voluntarily take a few additional measures when steelhead fishing. These measures are separate from the commission's decision, and they are not Fish and Game rules. 
Idaho sought renewal in 2010 for an expiring NMFS authorization for wild steelhead listed under the Endangered Species Act that could potentially be harmed during Idaho fisheries for hatchery steelhead. NMFS' permitting backlog delayed approval for years, but Idaho steelhead fishing seasons continued with National Oceanic and Atmospheric Agency's (which NMFS is within) knowledge and consistent with Fish and Game's submitted plan. 
Earlier this year, NOAA began reviewing the plan, and an updated plan is available for a  public comment through Dec. 13, 2018. Fish and Game expects NMFS approval of its plan later this winter.
In October, a group of six organizations threatened a lawsuit over Fish and Game's lack of formal federal authorization from NMFS. To avoid the potential for court-ordered changes and payment of these organizations' legal costs, Fish and Game commissioners voted on November 14 to suspend the most steelhead fishing effective on Dec. 7. That was the earliest day the organizations could file a lawsuit under the Endangered Species Act, but that suspension is now voided except in the new closure areas. 
Salmon River closure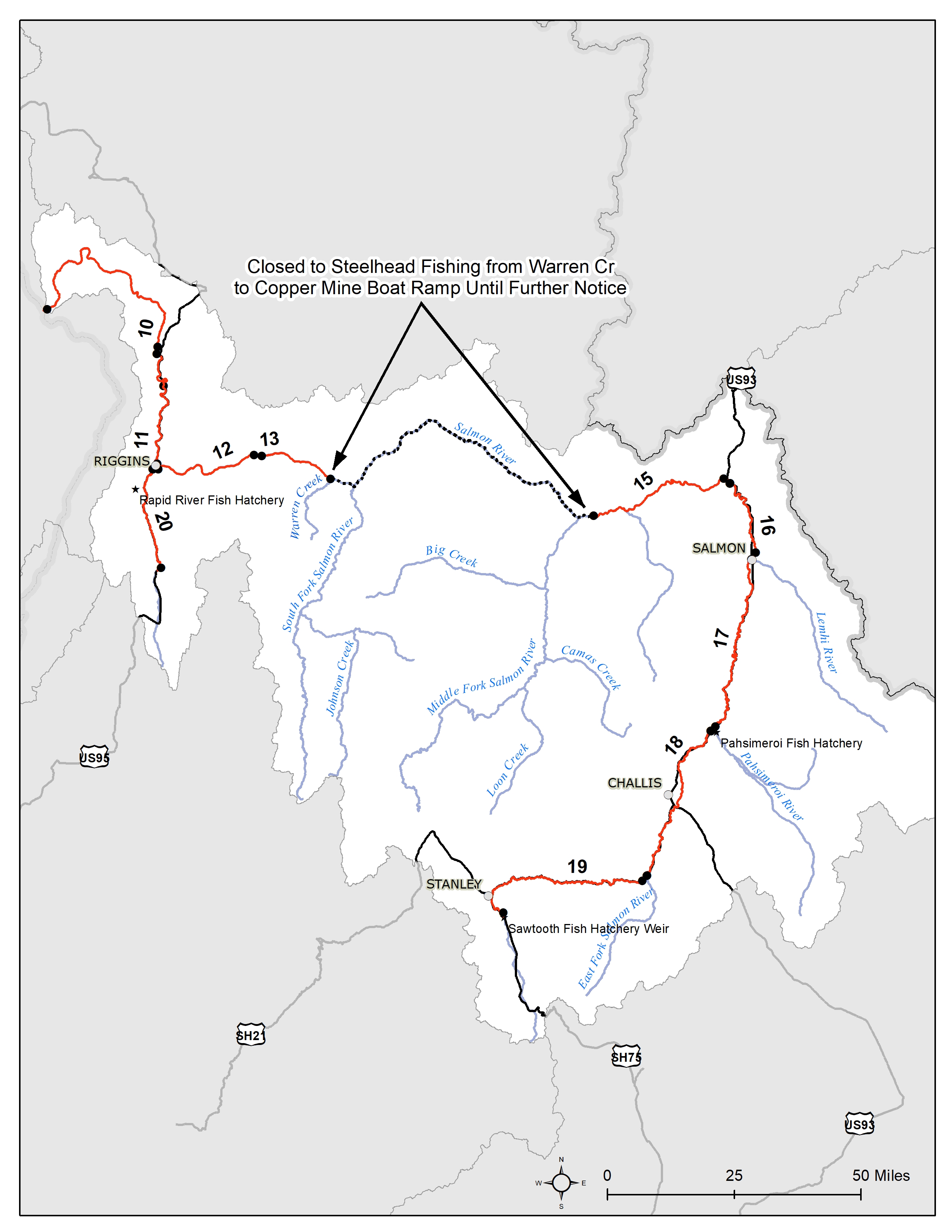 South Fork Clearwater River closure