Based on regional reports from Fish and Game biologists, growing turkey populations and expanded hunting opportunities should make for a good to very good spring turkey season in 2020.
Youth turkey season opens April 8, and the general turkey season and many controlled hunts open April 15. Hunters can see which units have general hunts in Fish and Game's turkey hunting rules, in addition to details about the seasons.
Hunters will find most general hunting opportunity in the Panhandle, Clearwater, and Southwest and Southeast regions, while most other areas are limited to controlled hunts. In each of the regions with general hunting opportunity, turkey populations are faring well, and the hunting outlook is as good or better than recent years.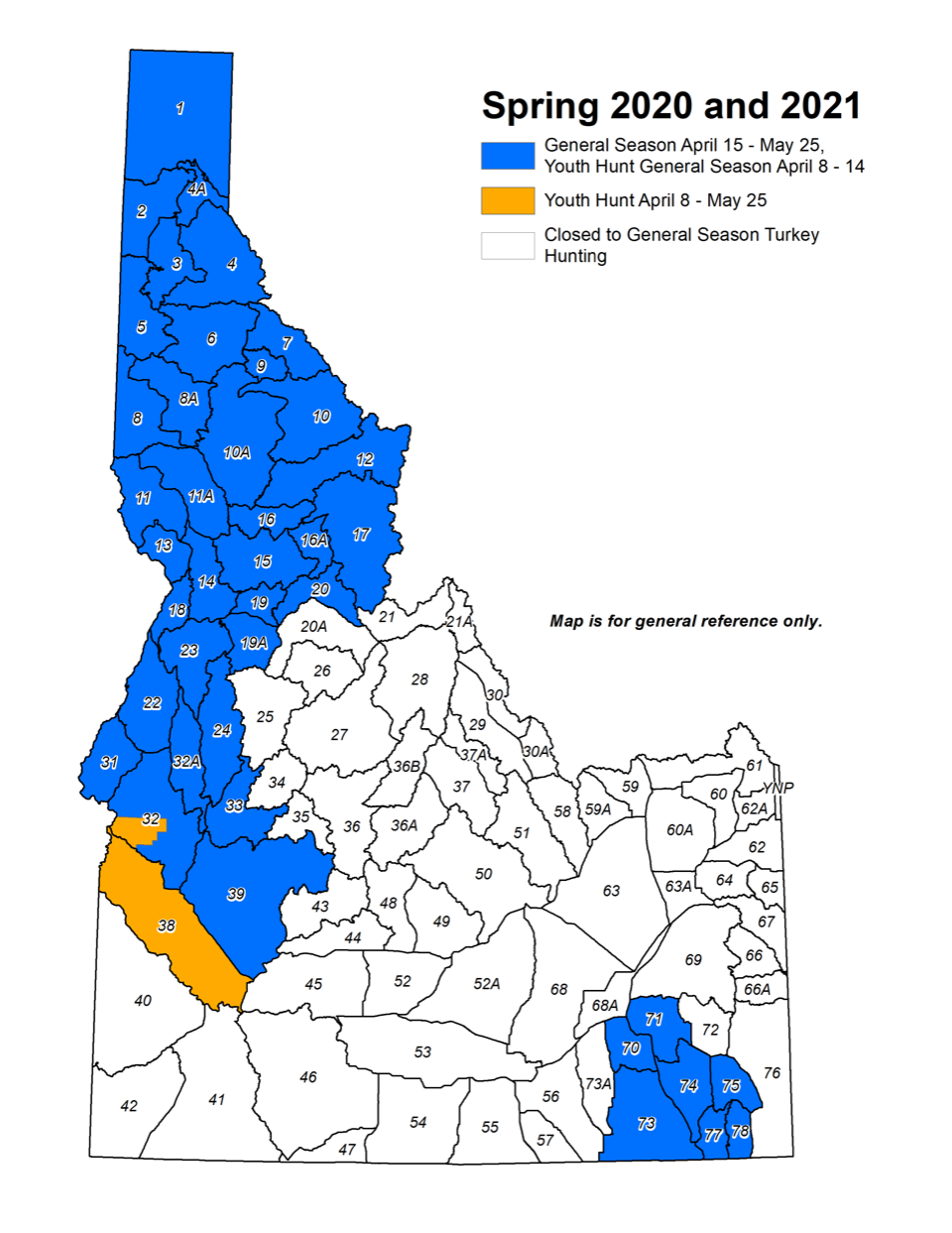 Reflecting the trajectory of some of Idaho's turkey populations, this spring will bring increased general season opportunity in the Panhandle and Southwest regions, as well increased tag numbers in a number of controlled hunts.
"Idaho's turkey population continues to grow, but turkeys are also pushing the boundaries of social tolerance in some areas. To counter that, managers have increased turkey hunting opportunity in problem areas — including general and either-sex controlled hunts — to reduce private land conflicts," said Jeff Knetter, Upland Game Bird and Migratory Game Bird Program Coordinator. "These hunts are in conjunction with prevention measures aimed to reduce conflicts caused by turkeys on private lands. Overall, it should be a great spring to get out and enjoy the turkey hunting opportunities Idaho has to offer – some of the best in the West."
Fish and Game's regional staff give an overview of what's happening with turkey hunting in their regions:
Panhandle Region
Turkey season in the Panhandle is looking quite good this year because turkeys fared well over the last several years across the region, due to good overwinter survival and spring production. Lower elevations are quickly becoming snow free and are beginning to green up, allowing birds relief from winter. The highest concentrations of turkeys in the Panhandle are found in the lower elevations of GMU's 1, 2, 3, 4, and 5.
New this year in the Panhandle, Hunting Units 7 and 9 are now open to spring turkey hunting. Keep in mind, during the spring season, hunters may purchase and use up to two turkey tags; only bearded turkeys may be harvested in spring.
In 2019, thousands of acres of prime turkey hunting lands were enrolled in the Large Tracts Program and remain open to the public. These are great places to start your pursuit. For more information on the Large Tracts Program, visit https://idfg.idaho.gov/access/large-tracts or find properties to hunt on Fish and Game's Hunt Planner.
As always, remember to respect private property and always ask permission prior to hunting there.
-- Micah Ellstrom, Panhandle Region Wildlife Manager
Clearwater Region
Production the past five years has been at or above the long-term average. Relatively mild conditions during the bulk of the past three winters should result in good overwinter survival. Consequently, turkey numbers this hunting season should be comparable recent years. 
Mild winter conditions were prevalent across the region this year. This should lead to easier access to higher-elevation portions of the region, but as always, access will also be dependent on weather and snowmelt between now and the opener.
Turkeys are present throughout all forested portions of the region with the highest densities found in and adjacent to the Clearwater River drainage up to the confluence of the Lochsa and Selway rivers, the Snake River drainage up the confluence with the Salmon River, the lower Salmon River drainage up to White Bird, and the Dworshak Reservoir area.
Good opportunities for turkey hunting are found on Craig Mountain Wildlife Management Area south of Lewiston, state and federal property, private property, as well as corporate timber land.
The Hunt Planner is a good tool for showing different federal land ownership. For information on corporate timberland, visit websites for the Potlatch Timber Corporation and the Bennett Lumber Company.
-- Dave Koehler, Clearwater Region Wildlife Biologist
Southwest Region
Nampa Subregion: The turkey outlook in the Nampa subregion of the Southwest Region is very good. Winter conditions have been very mild in the valley and we have observed high overwinter survival in hunting Units 38 and 39.
The Unit 38 spring hunt underwent a major revision this year - all of Unit 38 and that portion of Unit 32 within Payette County is now a youth-only general spring hunt. Two spring controlled hunts remain and tags were increased for those as well.
Turkey numbers have been up in recent years, and biologists are confident the population can sustain additional male-only harvest. However, the limitation in Unit 38 is access to private property where most turkeys reside. We ask hunters to be respectful of landowners and to always ask permission before hunting on private property.
It appears turkey numbers are increasing slowly in Unit 39. The general spring season should offer some good opportunities, and if this mild weather continues, turkeys should be moving onto public lands by the time the season comes around.
-- Rick Ward, Southwest Region Wildlife Manager
McCall Subregion: Turkey numbers continue to increase in Units 22, 31, 32 and 32A. 
A light winter meant good survival rates in all these units.     Units 22, 31, 32A and 23 all have general spring turkey hunts, as does a portion of Unit 32. In areas around Cecil D. Andrus WMA, Cambridge, Weiser and Midvale, most turkeys will be at low elevations during the early part of the spring season.
Motorized travel is restricted on Andrus WMA until May 1, but walk-in hunting is welcome.  In addition, there is turkey hunting available on Access Yes properties near Cambridge, Indian Valley, and New Meadows.
-- Regan Berkley, Southwest Region Wildlife Manager
Magic Valley Region
The Magic Valley has  limited turkey hunting opportunities in Hunting Unit 54, with most residing on the east side of the unit. Turkeys are limited to controlled hunts only in the region, and average to above-average survival is anticipated after a mild winter, which has also potentially changed the distribution of turkeys this spring. Hunters could benefit from starting on the east end of the unit and looking to higher elevations.
-- Brandon Tycz, Magic Valley Region Wildlife Biologist
Southeast Region
Winter conditions were near average this year, and as such, overwinter survival is expected to be high. Hunters should expect similar to slightly increased turkey numbers compared to last spring. Many of the valley bottoms experienced earlier snow melt compared to last year so hunters might expect slightly different distributions of birds this spring.
In the Southeast Region, hunters will find turkeys in hunting Units 70, 71, 73, 74, 75, 77, and 78. Highest concentrations of turkey are found on the western sides of the Bear River and Portneuf mountain ranges.
Other portions of the region have more sporadic and patchy distributions of turkey. Many of the turkey populations in the Southeast Region are associated with private lands and hunters are urged to be respectful of private properties and landowners when pursuing turkey.
-- Zach Lockyer, Southeast Region Wildlife Manager
Upper Snake Region
With the early arrival of winter this year and above normal snowpack in higher elevations in many parts of the region, hunters will likely find most turkey hunting opportunities at lower elevations. Hunters should anticipate stable to slightly declining turkey populations in the region for this spring.
The region likely had some late winter mortality, but hunting success rates should remain good. The region has a lot of private property along the Henry's Fork and South Fork of the Snake River, so be sure to ask first to hunt on private land.
The Upper Snake Region has a small population of turkeys, mainly along the Henrys Fork and South Fork of the Snake River. Turkeys are limited to controlled hunts only in the region.
-- Randy C Poole Sr. Upper Snake Region Wildlife Technician-LSC
Salmon Region
Challis area populations remain strong following a mild winter. Due to robust expansion of the Salmon area's recently established population, we will have expanded controlled hunt opportunities this spring.
In both areas, the majority of birds are found on private property and hunters are reminded to be respectful and procure access permission prior to the onset of season.
-- Dennis Newman, Salmon Region Wildlife Manager