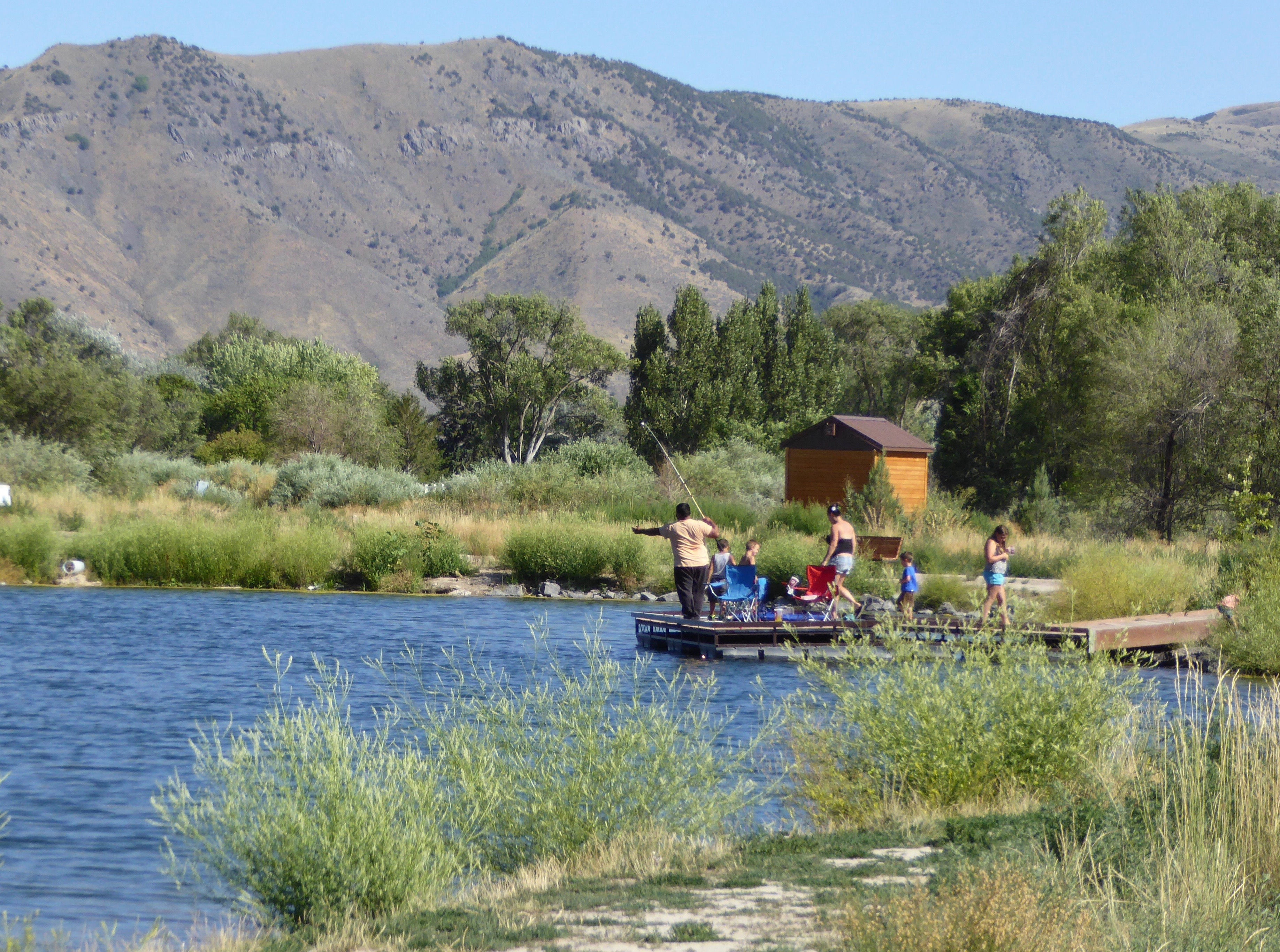 Spring is here,  days are getting longer and warmer, which are good reasons to break out the fishing rods and take advantage of some early season fishing opportunities. 
Idaho Fish and Game stocks trout year round, but expands its operations in April as more waters become suitable for trout. Typically, ponds are among the first places, followed by small lakes and reservoirs, then larger reservoirs, but that depends on weather and other factors.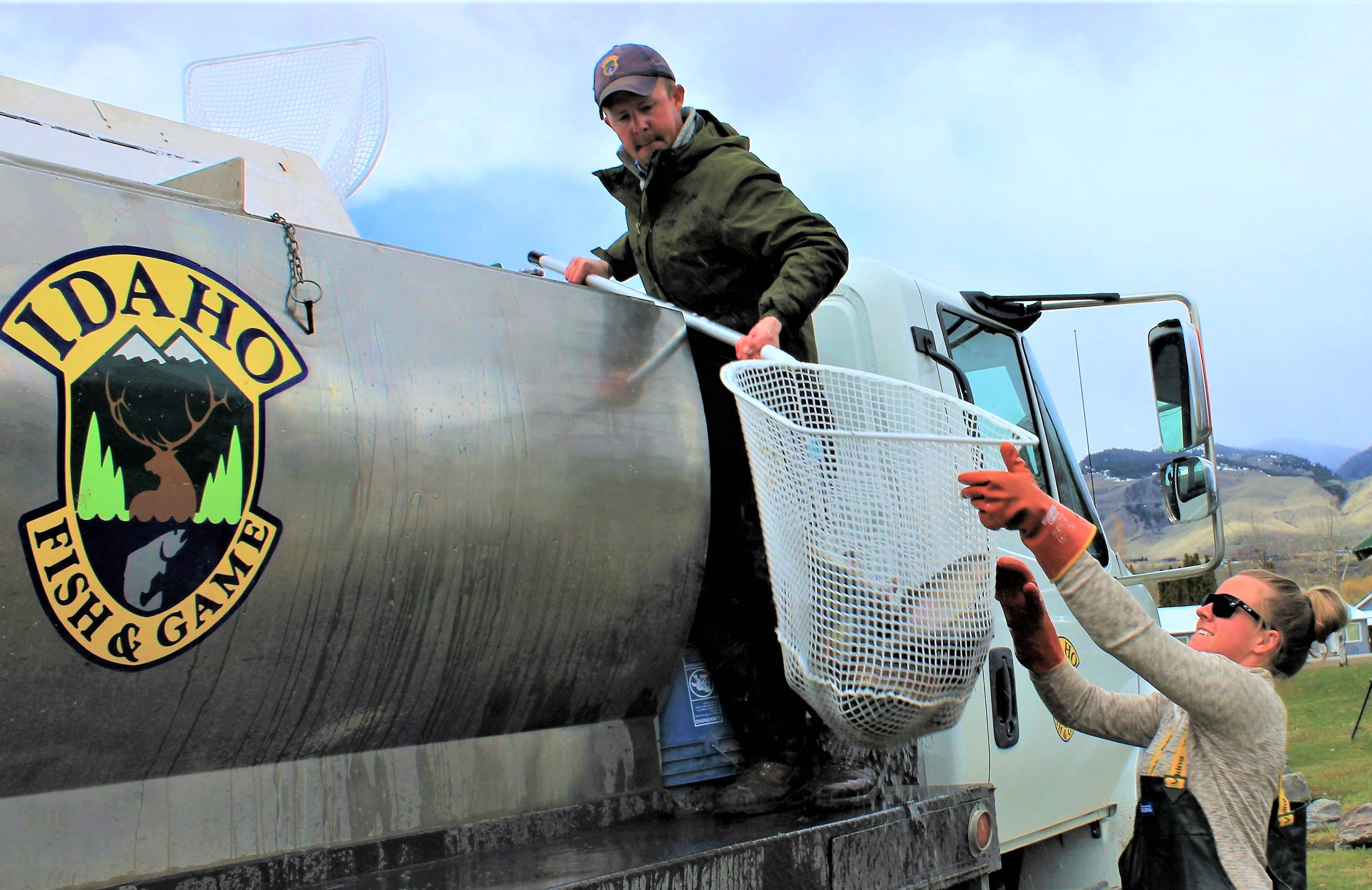 To get the latest information about where Fish and Game is stocking, check out the stocking reports page.
While trout fishing is the favorite in Idaho, there's also warmwater fishing opportunities in many of these locations, and don't take that "warmwater" name too literally. There can be good fishing for bass, crappie and bluegill during early spring when the water is still fairly cool.
If you're new to fishing, or have never fished before, but still want to take your kids fishing, check out Fish and Game's Learn to Fish page for instruction, tips, videos and more. 

If you're looking for places to go fishing where the trout stocking trucks have already visited, or will soon, here are some places to consider. Most of these are Family Fishing Waters, so there are fairly simple and uniform fishing rules. 
For maps, directions, and more information about each each of the places listed, click on the name, which will take you directly to our Fish Planner, where you can find many other fishing spots throughout Idaho. 
Panhandle
Fernan Lake:  (Coeur d'Alene) The lake is stocked with catchable rainbow trout starting in April. As water begins to warm, fishing will also improve for the assorted warmwater fish in the lake. Access to the lake can be found at the southern end, which includes docks and a boat ramp. There is also abundant shoreline access for bank anglers along the road that follows the northern shoreline.
Hayden Lake:  (Hayden) Early spring is a great time for anglers to start trolling for kokanee in Hayden Lake. These kokanee grow faster than in other local waters, and anglers can expect to catch fish up to 14 inches or more. Standard kokanee trolling techniques work well. Access to the lake is available on the west end from the Honeysuckle boat ramp and from the northeast end at the Sportsman's Park boat ramp.
Cocolalla Lake: (Cocolalla) Shore fishing is very limited, so you will probably want a boat, but this is a good early season trout fishing spot and it has three species of trout and one char (brook trout). There's also a variety of warmwater fish. The lake is about 800 acres, so it's not a pond, but small in comparison to some of the larger lakes in the area, and suitable for a variety of small craft like canoes, kayaks, row boats, etc.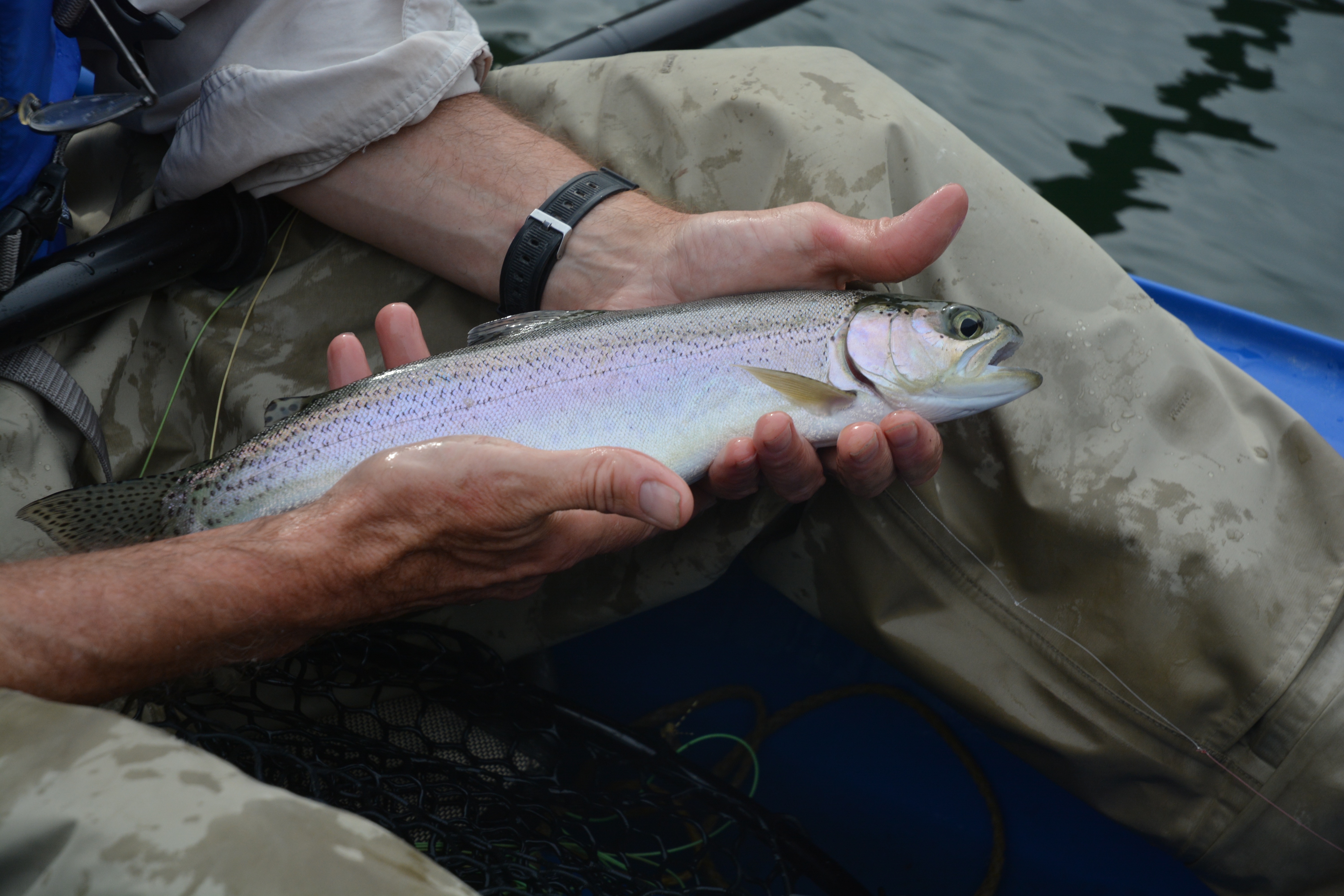 Clearwater
Robinson Pond: (Kamiah)  This 4-acre pond is at about 1,400 feet elevation so it's ready for early season angling. It's located near Lawyer Creek west of Kamiah on Lawyer Creek Road. It's stocked with rainbow trout.
Mann Lake: (Lapwai) Mann Lake tends to be the region's warmest lake due to its low elevation, so it's often among the first places where anglers can find good fishing for warmwater fish, such as largemouth bass and crappie. Fishing can be at its prime toward the end of March. There's a fishing dock and a boat launch.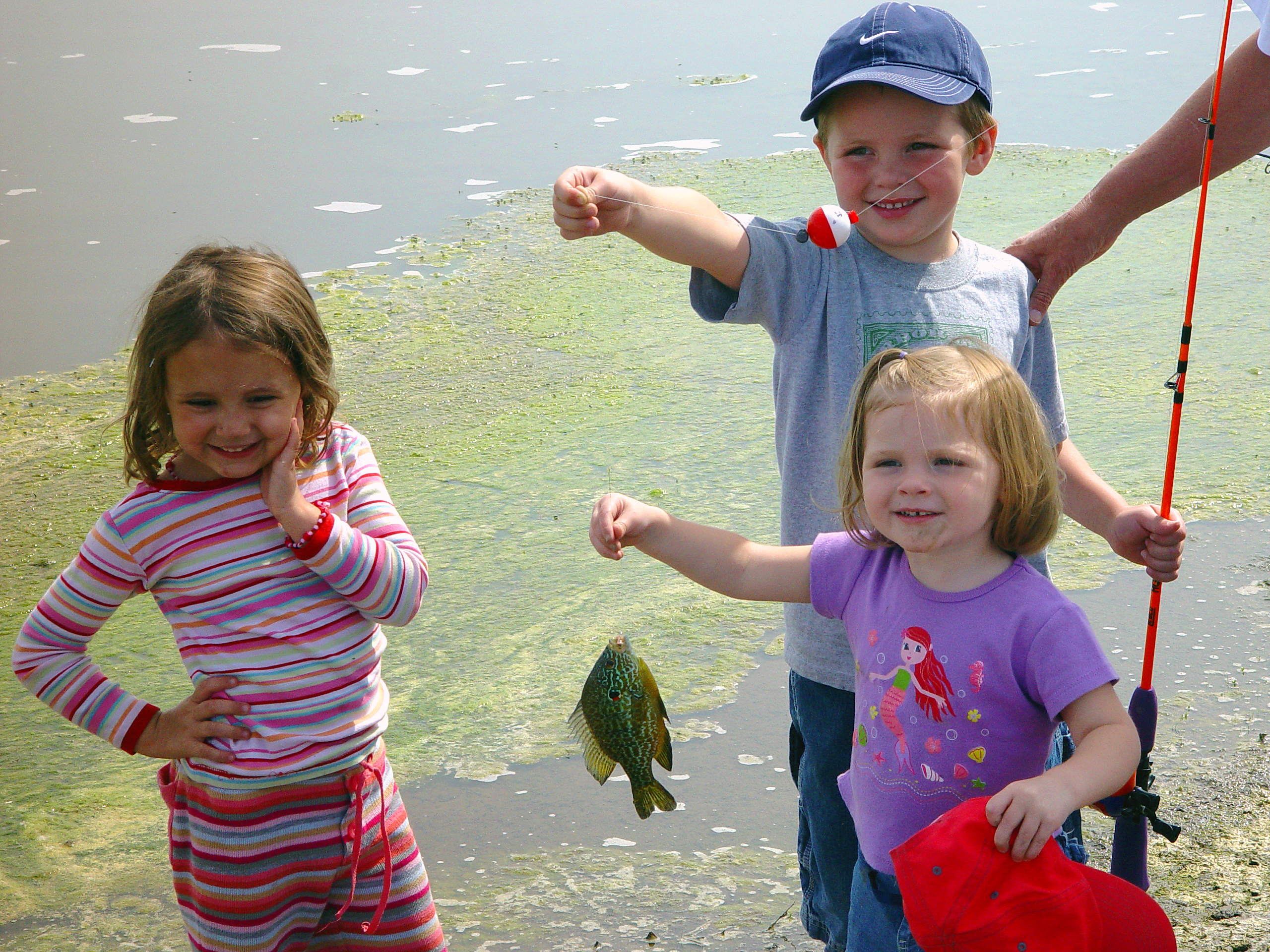 Kiwanis Park Pond: (Lewiston) Aka Lewiston Levy Pond or Snake River Levy Pond, this 4.4-acre pond is right next to the Snake River and provides easily accessible trout fishing near the confluence of the Snake and Clearwater rivers. There's also a playground and picnic shelters nearby. Trout are stocked during spring. The Snake River also has smallmouth bass. 
Hordemann Pond: (Moscow) This .7-acre pond is located in a park within Moscow and is stocked with trout during spring. The pond is encircled by a trail that allows people to see fish, frogs, ducks, geese, turtles and other wildlife. It also has a playground, open play areas, and a picnic shelter. 
Southwest
Marsing Pond: (Marsing) This 4.1-acre pond is within a city park with shady picnic areas alongside the Snake River and within walking distance of downtown Marsing. It's stocked with rainbow trout, and also has bass and bluegill. There's also more fishing opportunities on the Snake River for smallmouth bass and catfish.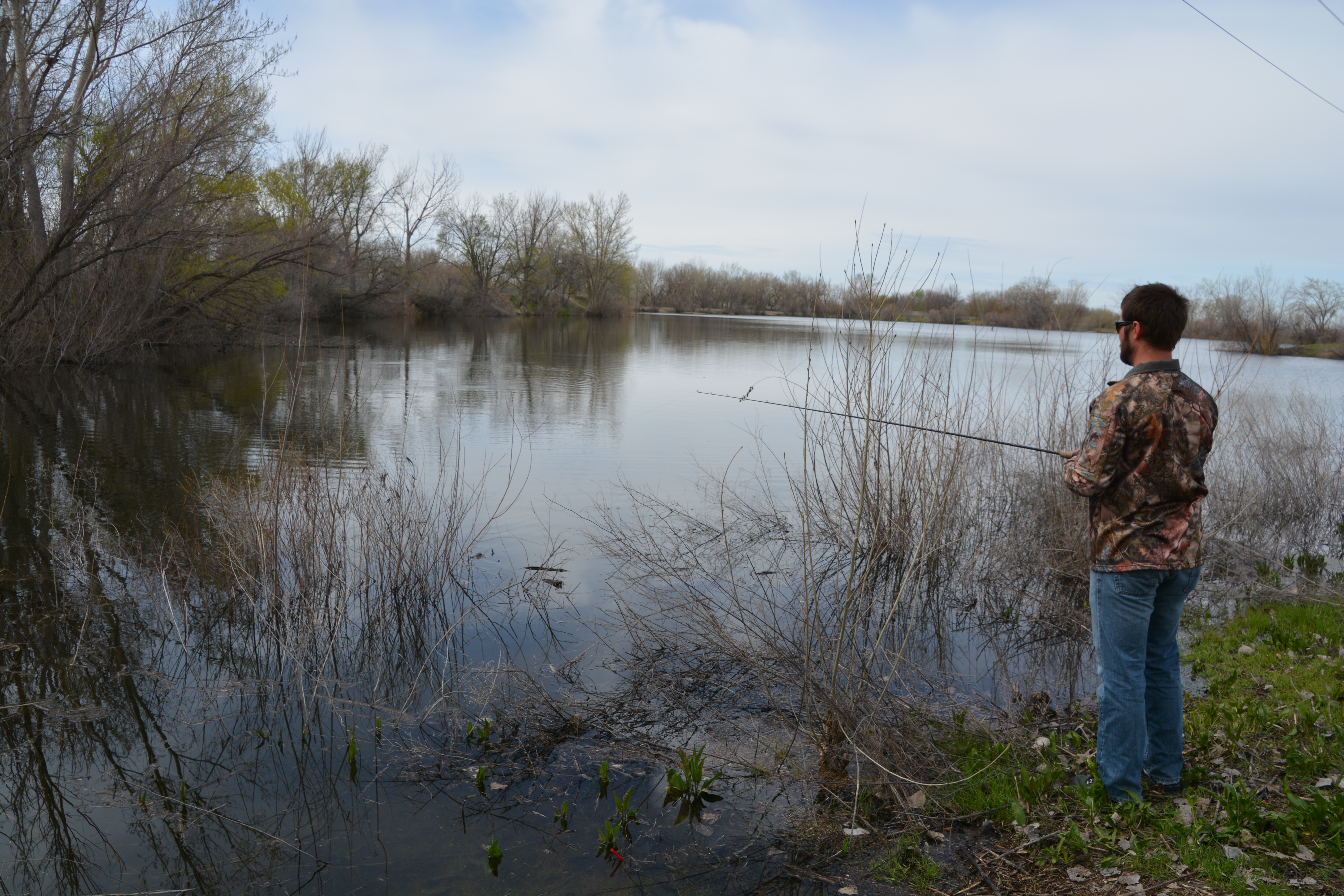 Caldwell Rotary Pond: (Caldwell). This 16.7-acre pond was recently upgraded with two fishing docks to make it friendlier for anglers. Rotary Pond is stocked with rainbow trout, and it's in a park-like setting with plenty of shade. Lots of bank fishing also offers young anglers easy access to fish for bluegills and bass.
Wilson Springs Ponds: (Nampa) This pond complex offers plenty of parking, paved pathways and easy access to several fishing areas, and trails let kids fish from shore and explore. The ponds are spring-fed and there's a hatchery next door, so it gets frequent stocking of rainbow trout and water temperature is ideal. It's also like a mini wildlife refuge and has lots of waterfowl and songbirds.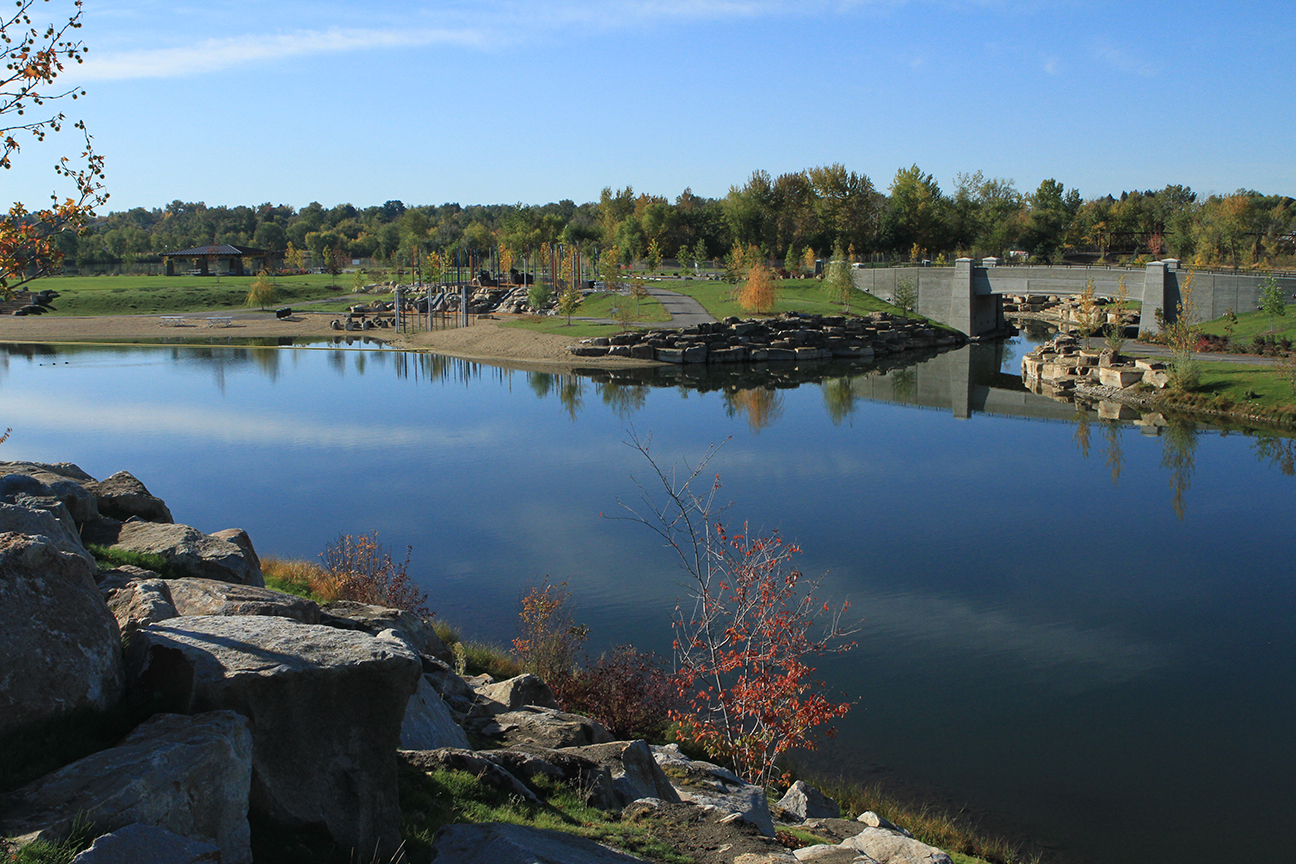 Esther Simplot Pond: (Boise) One of Boise's newest parks offers a fun place to fish in downtown Boise. The 23-acre pond is stocked with rainbow trout and also has bass and other warmwater fish. The park includes trails, docks, wetlands, boardwalks, shelters, grassy open areas, a playground, bridges and restrooms. Boat rentals are also available from a nearby business. 
Sawyer Pond:  (Emmett) This is a long-time favorite pond in the Emmett area that in recent years was renovated and improved. Anglers can launch small boats to access a series of ponds of varying sizes. Numerous docks and shoreline provide easy access to stocked rainbow trout and warmwater fish. 
Horseshoe Bend Pond:  (Horseshoe Bend) Just north of town on Idaho 55, this pond features easy access and productive fishing for trout, bass and more in a scenic setting next to the Payette River. There's plenty of parking, lots of bank access for fishing, an outhouse, and a small boat launch.
Sego Prairie Pond:  (Kuna) This 1.6-acre neighborhood pond offers easily accessible fishing for trout and panfish within Nicholson Park next to Indian Creek in Kuna.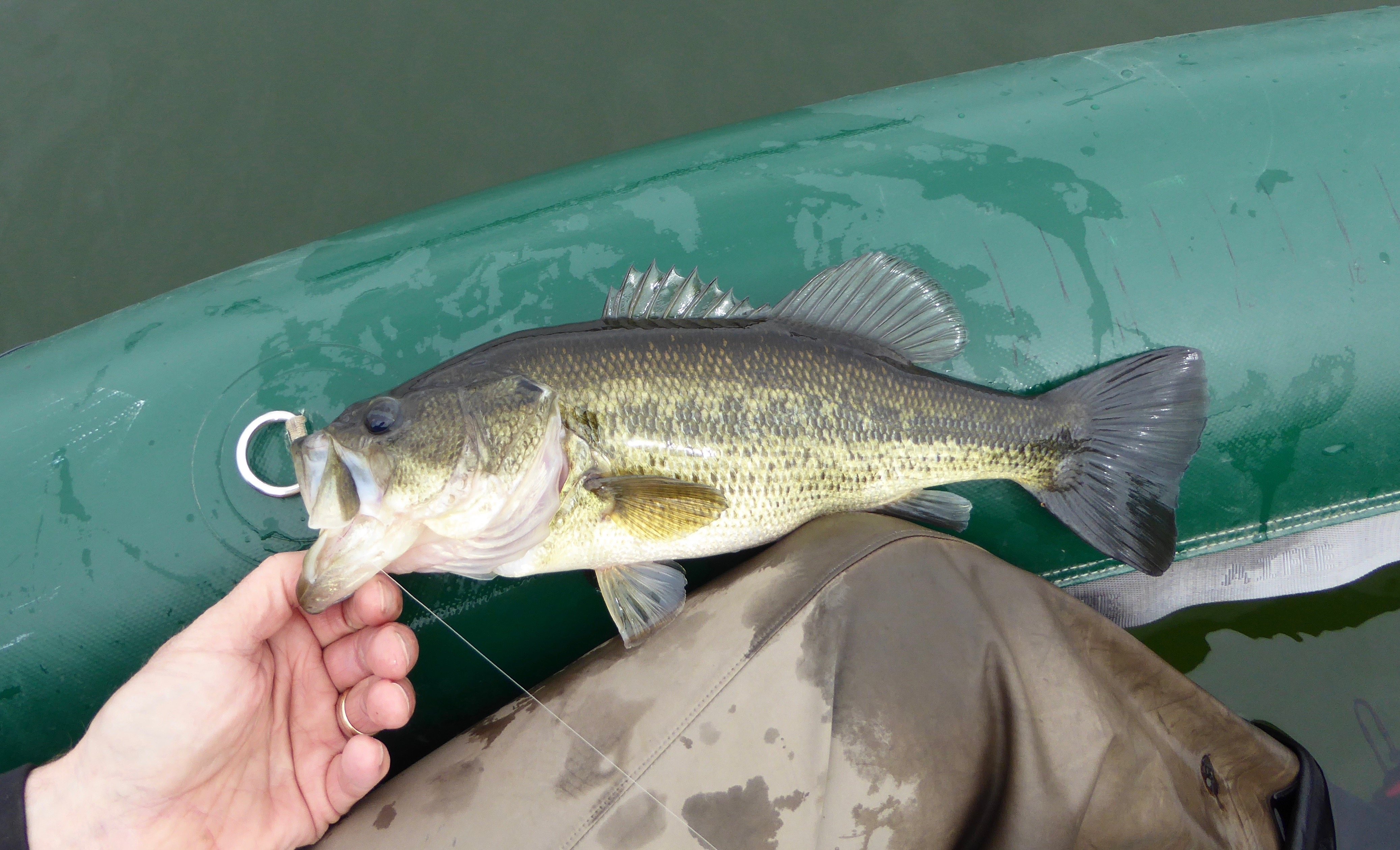 Crane Falls Reservoir: (Bruneau): The 89-acre lake is between Mountain Home and Bruneau and near the Snake River. It has largemouth bass, bluegill and planted hatchery rainbow trout. There are several fishing docks available on the lake, but many anglers prefer to use small craft, such as canoes, kayaks, rowboats, float tubes, etc. The lake has a boat launch and outhouses, and there's primitive camping at the lake. It's also adjacent to Cove Arm and the Snake River for more fishing opportunities. 
Weiser Community Pond: (Weiser) This 1.2-acre pond is at the south end of Weiser and offers an easily accessible shoreline and dock fishing near the Weiser River. It has rainbow trout, bass and panfish.  
Magic Valley
Hagerman WMA ponds: (Hagerman) Fish and Game's Wildlife Management Area provides a variety of fishing opportunities with Riley Pond, the Bass ponds, and Anderson ponds on the northwest side of the WMA, and Oster Lakes to the southeast. Riley Pond is a relatively small and well-stocked trout spot with lots of shoreline access, a fishing pier, and a fishing bridge. It's located right next to the Hagerman State Fish Hatchery, so it gets lots of trout, and kids can see some cool fish, including giant sturgeon, in the viewing pond. The area is also famous for its "banana" trout, which are a yellow-colored rainbow trout.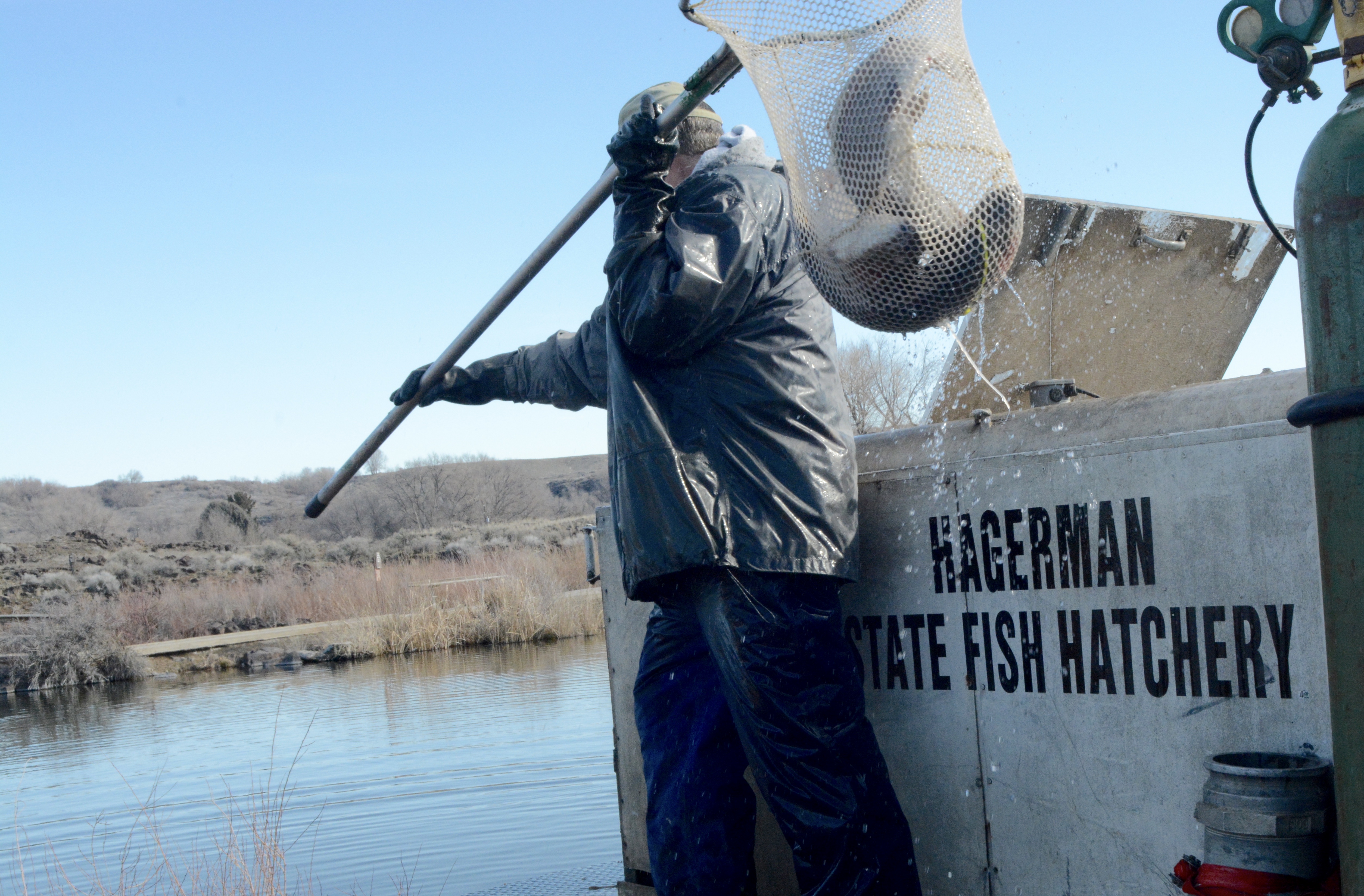 Filer Kids Pond: (Filer) The Filer Ponds complex is owned by the Twin Falls Canal Company, which established a "kids only" fishing rule on the Filer Kids Pond as a condition of access to their private property. Both ponds are regularly stocked with trout. Kids Pond is open to kids 12 and under and Filer Pond is open to anglers of any age.  
Dierkes Lake:  (Twin Falls) This is a conveniently located pond inside Shoshone Falls Park near Twin Falls. This scenic county park also features hiking, fishing docks and picnic areas. There are trout , bass and bluegill. Note: There is an entry fee to the park.
Castle Rocks State Park Fishing Pond:  (Almo) This 1.4-acre pond is at 5,685 feet elevation, so check the weather before you go and April might be a friendlier month than March weather wise. The pond gets frequent stockings of rainbow trout, and the park is a great place for hiking, rock climbing, wildlife watching and other recreation. 
Penny Lake:  (Ketchum) This .7-acre pond is west of Ketchum and offers camping and hiking, but at nearly 6,000 feet elevation, it's probably best to wait until mid to late April unless we have a warm sunny spring. But if you're in the Ketchum area, it's an option. 
Southeast
Bannock Reservoir: (Pocatello) Aka Portneuf Wellness Complex Reservoir. Located near the County Fairgrounds, this community park offers trout fishing from multiple docks, as well as many other recreational amenities nearby. The 6-acre reservoir is surrounded by playgrounds, soccer fields, basketball courts, running and biking trails.
Edson Fichter Pond: (Pocatello) This 3.4-acre pond is located in southwestern Pocatello along the Portneuf River at Edson Fichter Nature Area. It features several docks and a trail around the pond for easy access and lots of shoreline fishing. The pond is stocked with rainbow trout. The limited development around the pond make it an oasis for wildlife. 
Crystal Springs Pond: (Springfield): This 5.3-acre pond is surrounded agriculture lands northeast of American Falls Reservoir. It's stocked with rainbow trout. 
Jensen Grove Pond: (Blackfoot) This pond is seasonal, and if conditions allow, it will fill and be stocked with rainbow trout in April. This 55-acre pond is located within Jensen Grove city park along the Blackfoot Greenbelt, and facilities nearby include boating, playground, restrooms and picnic areas.
Upper Snake
Gem Lake: (Idaho Falls) This 400-acre reservoir is created by a dam on the Snake River. It has a fishing dock and lots of opportunities for shore angling, as well as boating. You can catch trout, warmwater fish, and sturgeon. Sturgeon are catch and release only. 
Becker Pond: (Idaho Falls) This 1.4-acre pond, located in Ryder Park, has ADA access for people in wheelchairs or others with limited mobility. This pond is managed with a two-fish daily bag limit to keep catch rates high. Boats, motors, wading and swimming are prohibited due to its small size. 
Salmon
Kids Creek Pond: (Salmon) This .6-acre pond is typically stocked with trout starting in March. It provides a convenient place for early season fishing, and can also provide some big surprises. Depending on availability, the staff at the Pahsimeroi Hatchery stock steelhead in the pond if they have surplus fish during March and April. 
Hayden Creek Pond: (Lemhi) This 1.7-acre pond is about 24 miles south of Salmon on Hayden Creek Road. It gets stocked with trout monthly through spring and summer for nearly year-round fishing thanks to spring water that keeps it from freezing. That spring water also makes great trout habitat, and fish that don't get caught right away continue to grow, which gives anglers an opportunity to catch some larger trout. The pond also has a picnic facility and bathrooms.
Blue Mountain Pond: (Challis) This .7-acre, park-like pond overlooks the golf course in Challis. Kids will enjoy fishing for stocked rainbow trout from the banks and having a picnic in one of the two gazebos.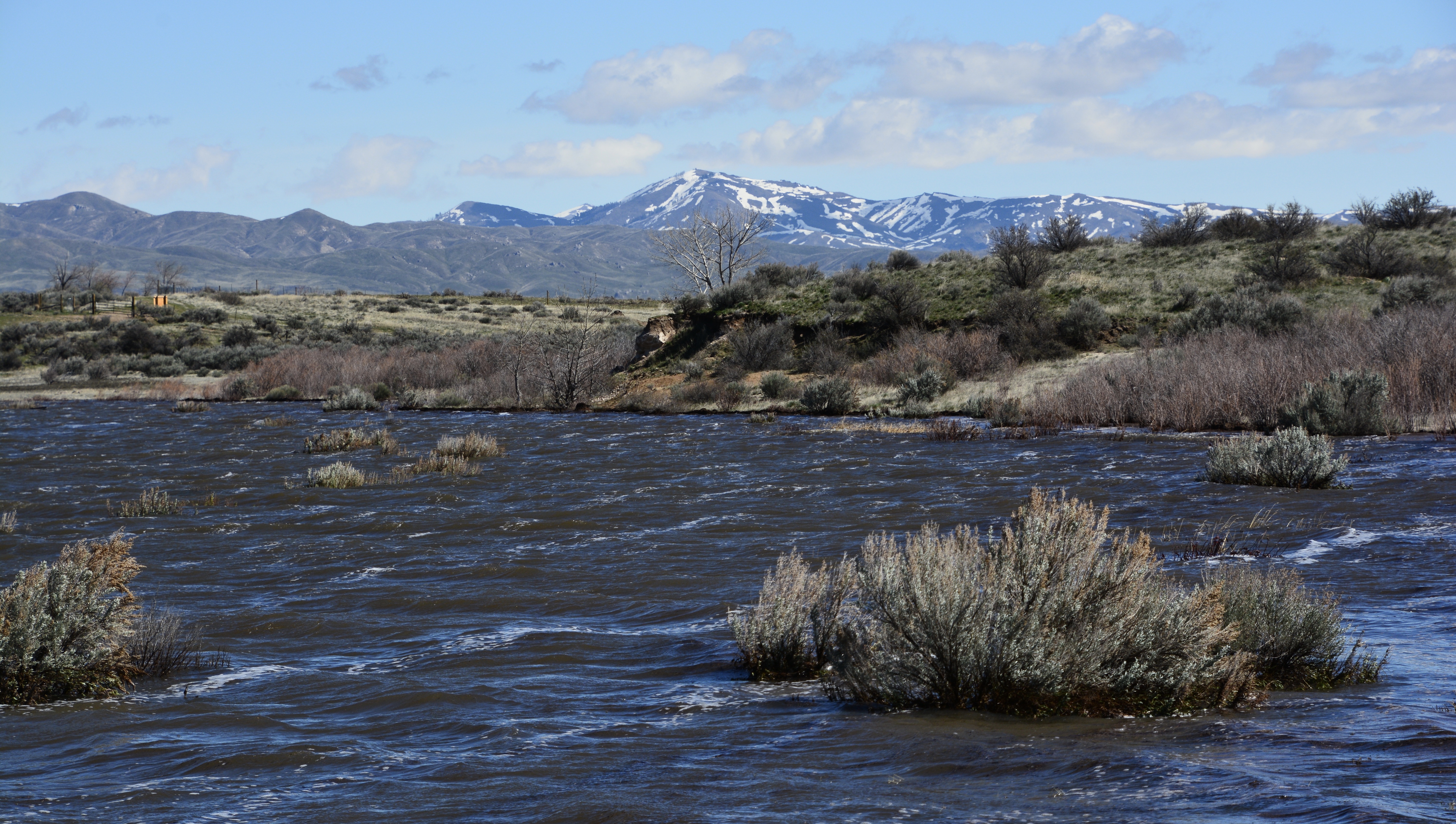 Tips for early season fishing
Watch the weather: Fishing is typically better when temperatures are warming and the barometer is stable. A temperature drop or a storm typically slows fishing. 
Take it slow: Fish can be sluggish in cold water. Air temperature warms much faster than water, so even on a warm, spring day, the water is probably chilly. Bait is a good option, and if you're using lures or flies, a slow retrieve usually catches more fish. 
Don't overlook warmwater fish: They become active sooner than you might think, but expect subtle strikes, and the fish to be in different places than where you found them last summer. Bass fishing can be good. Catch rates tend to be lower in early spring than other times of year when fish are more active, but the biggest fish are often the first to become active.
Think small: Smaller, shallower waters typically warm faster than larger bodies of water. Ponds, small lakes and reservoirs are good places to start. Same goes for shallow coves, bays and flats in larger lakes and reservoirs. 
Fish locally: If the forecast looks iffy, you don't want to drive a long ways and then find poor weather and water conditions. Spring is a good time to explore local ponds and reservoirs that you may have overlooked in the past. 
Make it a kid-friendly outing: If the fish aren't biting, find other things to keep youngsters amused. If you're in a city, maybe pick a pond in, or near, a park. If you're in a rural area, take a hike around the pond and look for wildlife, which often congregates near water. Bring snacks and a dry set of clothes in case kids get wet. Make it a fun trip so they will want to return later.