Hi everybody, it is time for my weekly spring Chinook Salmon update (5/26/2020).
Run Size and Harvest Shares
Counts at Bonneville continue to give periods of hope only to drop back down (see graph below).  At this point, the run of Idaho bound spring Chinook Salmon over Bonneville Dam is about over.  Totals counts for this year's return is still tracking a little behind what we saw last year (2019), which as you all know by now is not good.
Updates to the PIT tag data collected at Bonneville Dam are shown in the table below.  At this point we pretty much know how many Idaho bound fish are going to pass over Bonneville Dam as the run is about 95% complete.  The only thing that will really cause harvest shares to change is how well these fish survive as they migrate to Idaho.  For whatever reason, the Rapid River bound fish seem to be surviving well.  These higher than normal survival rates have been incorporated into the harvest share calculation shown in the table below (548 fish).  Some of you may remember that last week we estimated the harvest share would be 621.  The reason the harvest share dropped is because the number of Rapid River PIT tagged fish passing over Bonneville Dam dropped faster than anticipated.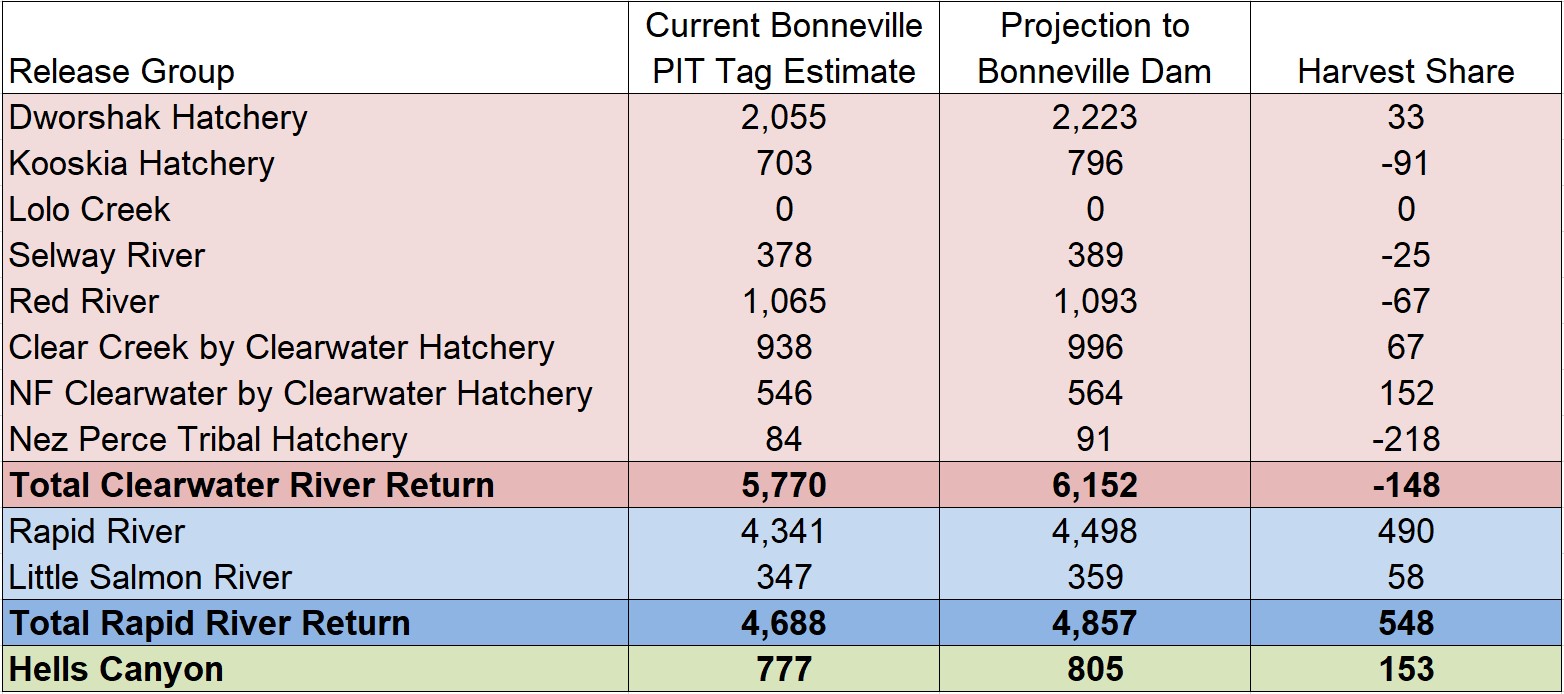 Rapid River Fishery
Despite higher flows and off colored water, catch did pick up in the Salmon River.  We estimated that 84 fish were caught last weekend with most being caught around Pine Bar (see table below).  Catch rates improved from the previous week although I would still not call them good.  Based on the people we interviewed, catch rates in Section 1 of the Salmon River average 26 hours/fish and 63 hours/fish in Section 2.  We estimated that only one Chinook Salmon was harvested in the Little Salmon River.  I suspect the dirty water and cooler temperatures kept fish from moving into the Little Salmon River last weekend.
To date, we estimate 103 fish have been caught in the Rapid River fishery.  That means we have around 445 adult fish left to harvest, and the fishery will reopen this coming weekend. 
Water flow is supposed to start coming up again in the Salmon River and peak on Sunday at around 45,000 cfs.  This will cause water visibility to decrease, but this peak will result mostly from increased snowmelt which means the water clarity should stay fishable.  Flows in the Little Salmon are also supposed to increase.  Let's hope that this colder snowmelt doesn't cause the fish to hold up in the Salmon River for another week.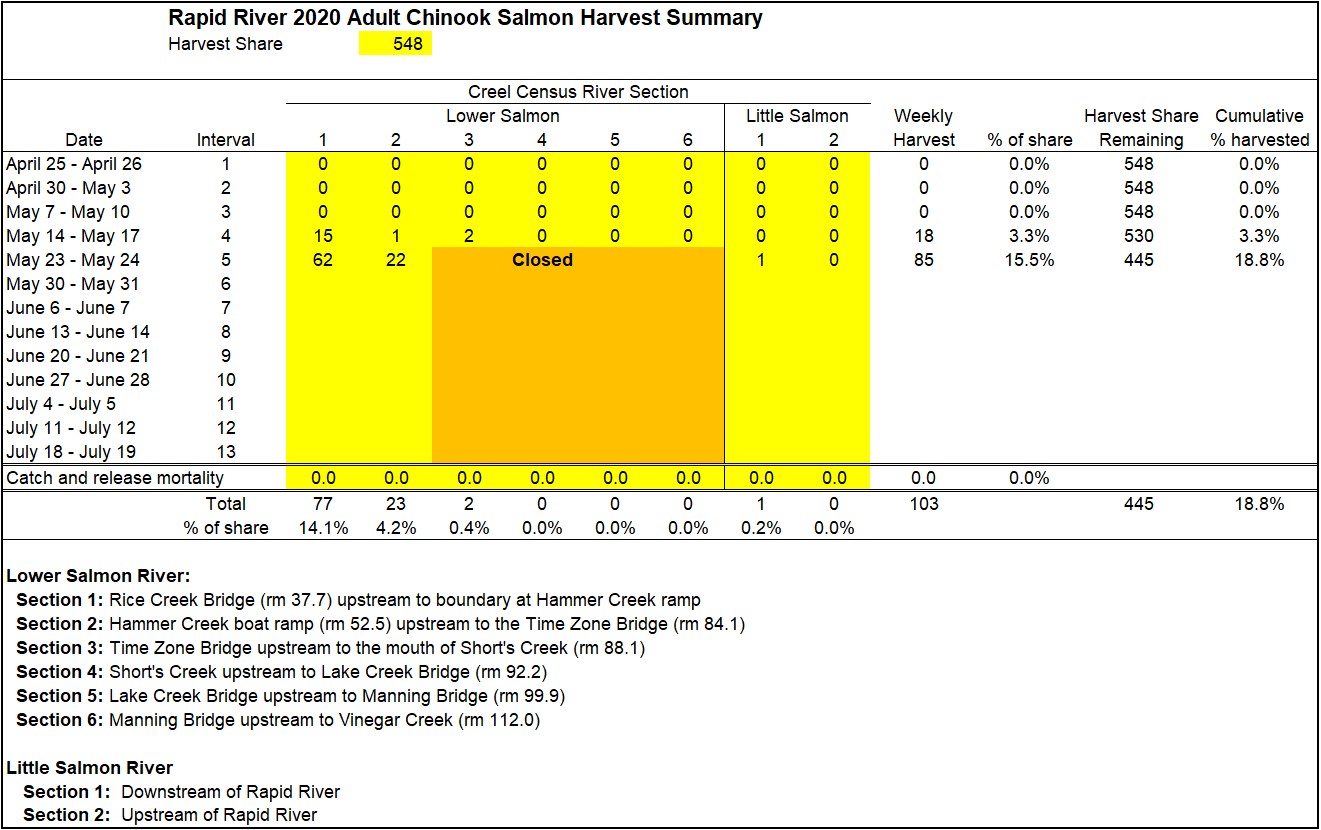 Hells Canyon Fishery
Last week, we estimated that only 11 fish were harvested below Hells Canyon Dam.  This brings our total harvest for the year to 27 adults.  This lower harvest was a surprise to me especially seeing we saw over three times as much effort as the previous week.  This will be the last week of fishing before we start trapping Chinook at Hells Canyon Dam (starts June 1).  Typically when we start trapping, catch rates drop as fish are pulled from the river.
The harvest share for the Hells Canyon Fishery is at 153 fish right now, so this fishery will remain open. 
That is all I have for you this week.  We've got some warm weather heading our way.  I hope you all get a chance to get out and enjoy it.