Ice fishing is more than a fishing trip, it's a way to get outdoors during winter, bring your family and friends, and hopefully catch a batch of tasty fish. 
Ice fishing is a surprisingly easy activity to learn and enjoy, and aside from an ice auger and a slush spoon, you probably have everything you need if you own basic fishing gear. Even if you don't, it's pretty inexpensive to get started. If you're new to ice fishing, scroll down for more information about how to be safe, effective and get the most out of your trip.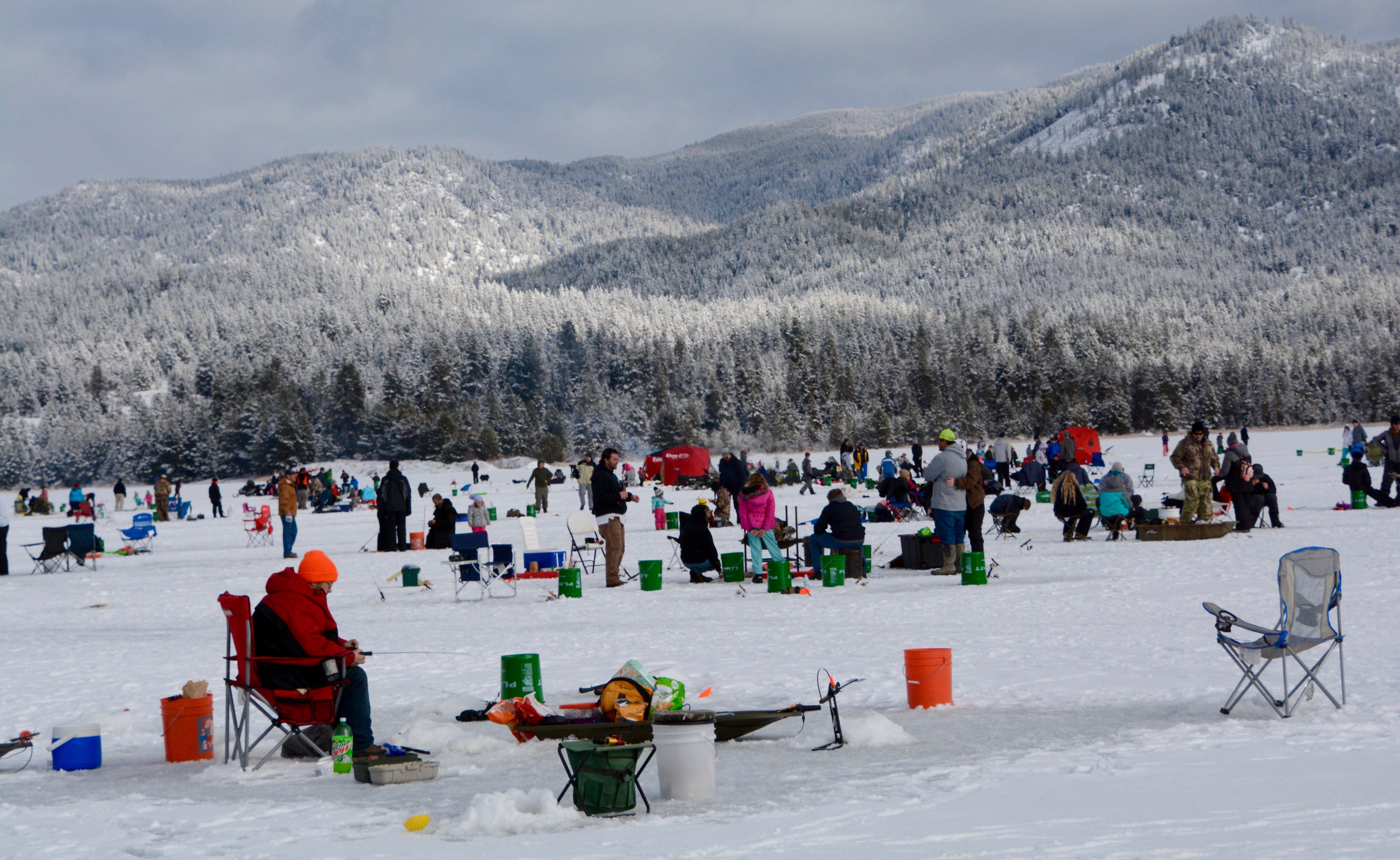 One of the fun things about ice fishing is a frozen lake, reservoir or pond can accommodate a lot of anglers, so there's plenty of room for everyone. You can also bring a camp stove or grill, food, your favorite beverages (hot or cold), lawn chairs, heater, and maybe even an ice fishing tent. Don't think of ice fishing as just a fishing trip, think of it as a picnic, or better yet, a tailgate party. 
Ice fishing starts in the fall in some of Idaho's chilliest locations, but it's usually not until December or January that the ice is thick enough to fish in most parts of the state. Three to four inches of solid ice is the minimum to support a person, and thicker ice is needed for groups. Here's more information about ice fishing safety.
Because Idaho is so diverse geographically, when ice fishing starts, as well as how long it lasts, varies by location. Conditions can also change quickly, so use good judgment before heading out on the ice, and remember you're responsible for your own safety. 
Here are some Idaho's top spots for ice fishing. To see maps and more information, click on the link to each location.  
Panhandle
Avondale Lake
Due to its small size, Avondale is one of the first lakes in the Coeur d'Alene area to completely freeze over. Located in Hayden, this lake provides a great ice fishing destination for family adventures because warm food or a cup of hot cocoa is never far away. Fisheries staff have stocked catchable-sized rainbow trout every August since 2015 so anglers will have plenty of fish available during ice fishing season. Panfish are also abundant in Avondale. Public access is available on the southwest side of the lake off of Avondale Loop Road. Parking is across the street from the clubhouse, courtesy of Avondale Golf Club. Here's more information about Avondale Lake.
Twin Lakes
The Twin Lakes host a wide variety of fish species from bluegill, northern pike and crappie to rainbow trout. Anglers have even caught kokanee through the ice on Lower Twin. Public access is plentiful, with two Kootenai County boat launches available plus Fish and Game's Sportsmen's Access site, which is located on the north side of the channel between the lakes. Here's more information about Upper Twin Lake and Lower Twin Lake.
Dawson Lake
Dawson is a scenic lake nestled in the Kaniksu National Forest north of Bonners Ferry. This lake has productive ice fishing for warmwater species such as bass, bluegill, crappie and perch. Dawson is also only one of four lakes in the Panhandle stocked with a small number of tiger muskie each year. Due to its small size and high latitude, this lake freezes earlier than many lakes in the region. Here's more information about Dawson Lake.
Cocolalla Lake 
This popular ice-fishing destination is located along Idaho 95 between Coeur d'Alene and Sandpoint. Ice anglers access the lake on the north end at the Fish and Game boat launch, which includes a large parking area and outhouse. The lake supports a diverse fishery for both warmwater and coldwater fish species. Yellow perch are the most common target during the ice fishing season, but other panfish, bass, and channel catfish are present. Cocolalla Lake offers some of the best lowland-lake trout fishing in the region, with brook trout, cutthroat trout, brown trout, and rainbow trout all present. Because of the diversity of species present and high density of yellow perch, this is a great choice for anglers of all skill levels. Here's more information about Cocolalla Lake. 
Fernan Lake
This lowland lake offers easy ice-fishing access for anglers, making it a popular choice.  Located just east of Interstate 90 near the city of Coeur d'Alene, developed access sites with outhouses exist at the county boat launches on the west and northeast ends of the lake. Additionally, numerous pullouts along the Fernan Lake Road provide good access. Fernan Lake offers a diverse fishery for rainbow trout, panfish, bass, and channel catfish. This multi-species fishery offers fun ice fishing opportunity and is well-suited to families and beginners. Here's more information about  Fernan Lake.  
Clearwater Region 
Spring Valley Reservoir
Surrounded by rolling hills and trees, Spring Valley Reservoir's fishing opportunities are favored by ice anglers because trout are stocked heavily in the fall, and many of those fish carry over into winter and provide lots of action. A trail surrounds the reservoir that can be used as a snowshoe or cross country ski trail. Amenities include a picnic shelter, restrooms, benches, and picnic tables. Here's more information about Spring Valley Reservoir. 
Winchester Lake
Located in a beautiful forested setting, Winchester Lake offers very easy access. Facilities include a picnic shelter, benches and picnic tables. Many facilities are located in Winchester State Park, where an entrance fee applies. The park also rents heated yurts during winter, so anglers can plan an overnight fishing trip and have easy access to the lake and a warm place to sleep or take a break from fishing. To reserve a yurt, go to reserveamerica.com. Fish and Game stocks thousands of rainbow trout in the fall with ice anglers in mind. Here's more information about Winchester Lake. 
Deer Creek Reservoir
This beautiful mountain reservoir was built specifically for trout fishing. Rainbow trout are stocked from spring through fall in this remote setting. To add variety, this lake is also stocked with sterile brook trout and tiger trout. Trout limit is 6, only two may be Tiger Trout, no Tiger Trout under 14 inches. Winter access to this reservoir is hike-in only. The gate is closed to motorized access from Sept. 30 through May 20. Here's more information about Deer Creek Reservoir. 
Soldiers Meadow Reservoir
Located on Craig Mountain Wildlife Management Area, Soldiers Meadow reservoir is open year-round to fishing. Available species include rainbow trout and kokanee. Recreation on this 124 acre reservoir with 4 miles of shoreline is administered by the Lewiston Orchards Irrigation District. Over 14,000 kokanee and nearly 8,000 rainbow trout were stocked during summer, which gives ice anglers an opportunity to catch both species. 
Here's more information about Soldiers Meadow Reservoir. 
Southwest Region 
Lake Cascade
This lake has a surface area of 47-square miles, so there's plenty of room and multiple access points for ice anglers. Fish and Game and Idaho Parks and Recreation work jointly to provide lake access for anglers in multiple places, including off Lake Cascade Parkway just west of town where there's a plowed parking lot and boat launch. Cascade has a national reputation for producing trophy-sized perch, including numerous record fish, as well as trophy rainbow trout and a variety of other species. The lake can provide excellent ice fishing, but due in part to its large size, the fish can be unevenly dispersed. You can often spot anglers congregating in certain locations, especially on weekends, so that will give you a good hint where fish can be found. Here's more information about Lake Cascade. 
Horsethief Reservoir
This is an ice fishing favorite in Valley County east of Cascade off Warm Lake Road. This reservoir is owned and managed by Fish and Game as mostly a rainbow trout fishery with some brown trout as well. The road to the reservoir is plowed during winter, and there is also an outhouse available in the parking area. Access to the reservoir is through a boat launch, which makes it easy to use snowmobiles and ATVs when ice conditions allow. Fish and Game personnel keep the reservoir well stocked with catchable rainbow trout. Idaho Youth Outdoors hosts one of the largest ice fishing events in the state at Horsethief, which will be Jan. 11, 2020. Here's more information about Horsethief Reservoir. 
C.J. Strike Reservoir
This large reservoir south of Mountain Home is a wild card for ice anglers because it's inconsistent from winter to winter, and ice conditions can quickly change. But if there's a prolonged cold spell in Southwest Idaho, it can be a fun place to fish for trout, perch and other species. In many years, the reservoir has open water in the center, but ice anglers still find places to fish in coves and other areas near shore. Be very cautious and don't take risks to catch a few fish if there are other places available for ice fishing. Here's more information about C.J. Strike Reservoir. 
Magic Valley Region
Mormon Reservoir 
Mormon is not seeing the trout size or catch rates experienced last year. Early ice conditions can be sketchy at best so take precautions and wait for thicker ice if it's marginal. Camas County periodically plows the road into the reservoir, so check with the county before you head up (otherwise it's a long walk in). You can access the reservoir by heading south from Fairfield on Mormon Reservoir Road. Here's more information about Mormon Reservoir.
Magic Reservoir
This is a destination for ice anglers seeking a mixed bag of species. Magic has good numbers of rainbow trout and brown trout in the 2 to 4 pound range, and as many 8 to 10 inch perch as you'd ever want to filet, and occasional smallmouth bass through the ice. Ice fishing typically picks up in January when thicker ice is more likely to form, but in Mid December anglers were fishing Moonstone landing with about 5 to 7 inches of ice. It's best to access Magic Reservoir through West Magic, but watch weather patterns as the road is plowed intermittently. Here's more information about Magic Reservoir.
Carey Lake
This lake has perch, bluegill and bass and typically has thick enough ice for fishing in mid-December. This year, Magic Valley Fisheries Staff stocked 500 retired broodstock trout averaging 3 pounds to provide a new and exciting ice fishing opportunity. Perch can be caught in the channels running through the center of the lake, and bluegills can be caught on the west end where the lake is deepest. Bass catch rates have been good in recent years, but most bass are below the 12-inch minimum size for harvest. Carey Lake is located east of Carey, with a parking lot and bathroom on the west side of the lake. Ice forms early during typical winters, but the east inflow keeps a pocket of open water, so do not venture into that area. Here's more information about Carey Lake.
Oakley Reservoir
This reservoir offers anglers a rare opportunity to catch walleye. Oakley is also a sneaky good rainbow trout ice fishery honey-hole! Oakley can see some early ice, but it is best ventured to in mid-January. Beware the road into the reservoir is rough and receives very little maintenance past the dam during winter. Here's more information about Oakley Reservoir.
Conner and Emerald Ponds
Both of these ponds provide great ice fishing opportunity for rainbow trout. Every year these fisheries are stocked in mid to late-November with hatchery trout and fishing can provide good fishing in January. Both ponds are on the north side of Interstate 84 in Burley.
Southeast Region 
Bear Lake
Cutthroat, lake trout, rainbow trout, and a unique Idaho fish called cisco can be pulled from this large water body that spans Idaho and Utah, but you only need one fishing license from either state to fish this lake. Just remember, Bear Lake has special rules, so only one line is permitted for ice fishing unless an angler possesses a two-pole permit. As with other large water bodies, the ice conditions can get "tricky" quickly from spot to spot, so be extra mindful of ice conditions as you fish across this water body. Dipnetting for cisco is permitted Jan. 1 through Feb.15.  Dipnets cannot be larger than 18 inches in any dimension; however, any size hole may be cut through the ice to catch cisco. Here's more information about Bear Lake. 
Chesterfield Reservoir
This is very productive fishery, and a fun place to catch some really nice rainbows. Imagine pulling a 2-pound fish through the ice! Bannock County maintains the road to this fishery, and sometimes the road is closed for weather. Here's more information about Chesterfield Reservoir. 
Blackfoot Reservoir
17,000-acre reservoir is chock-full of rainbow trout, cutthroats, and yellow perch. During fall, more than 23,000 rainbows were stocked in the reservoir. Anglers are reminded there is no harvest of cutthroats allowed in Blackfoot Reservoir. Daily bag limit is six fish for other trout species, and there is no limit on perch. This is the second-largest reservoir in southeast Idaho, and because of its size, ice depths and consistency can vary. There are times that roads to the reservoir can be blown shut with drifting snow. Here's more information about Blackfoot Reservoir.
Montpelier Reservoir
How about ice fishing for some Kokanee? You can pull this landlocked salmon through the ice at this 130-acre reservoir located up Montpelier Canyon. While you are at it, you can catch yellow perch, brown trout, cutthroats, and rainbows. Here's more information about Montpelier Reservoir.
Pocatello's Urban Fisheries 
The fishing ponds at both Edson Fichter Nature Area and the Portneuf Wellness Complex in Pocatello are very popular places to ice fish and offer the convenience of being right in town. There is a two-fish limit for each pond. Here's more information about Edson Fichter Pond and Portneuf Pond (aka Bannock Reservoir). 
Upper Snake Region
Island Park Reservoir
The lake is deep and large, allowing it to produce larger fish but often making the fishing seem slow at times. This year however, record numbers of kokanee have been counted spawning in the surrounding tributaries, making this a potential boom year for pulling 12-13 inch kokanee through the ice. 250,000 kokanee and 133,000 rainbow trout were stocked in the lake earlier in 2019 and are ready to be caught by anglers. The best ice fishing usually occurs around the Island Park dam, where a large plowed parking area provides access to the lake.
Henrys Lake
This world famous lake produces some of the largest trout in Idaho. Hybrid trout (rainbow/cutthroat crosses) often exceed 10 pounds. Ice fishing began early on Henrys this year, with some brave souls seen on the ice on Halloween day, but Henrys Lake also has an abbreviated season for ice anglers and closes to fishing on Jan. 2. Several access points are available around the lake with the most popular being the Fish and Game Hatchery, which is plowed with restrooms available. Henrys Lake State Park is often only accessible in a four-wheel drive vehicle. Here's more information about Henrys Lake. 
Jim Moore Pond
Located a few miles south of Roberts Idaho, this hidden gem provides a non-stop fishing adventures for kids catching small perch. It is not uncommon for kids to look down the hole and see a half-dozen fish competing for their bait. While the perch are small, the constant action and high catch rates really grasps a kid's attention and keeps them interested. Small ice flies with a mealworm attached are the ticket to reeling up perch in this pond. The bite is light, so try using a small strike indicator floating as a bobber to detect hits. Sometimes the action is so hot that they have been known to bite a bare hook. In addition to yellow perch, tiger trout, catfish and rainbow trout can be caught here. Restrooms are available and the access roads are generally in good condition.
Mackay Reservoir
Located north of the town of Mackay, this reservoir consistently provides good kokanee and rainbow trout fishing through the hard deck. Kokanee are typically in the 11-inch range with rainbow trout being upwards of 12 inches. Two access points are plowed often during the winter and are located just off Highway 93. Just look for the Joe T. Fallini campground managed by the BLM, or the Battleground access site maintained by Fish and Game. Outhouses and vault toilets are available for use at either location. Because of the long ice fishing season, you will see many substantial ice huts pulled out onto the lake by regulars for use all season. Here's more information about Mackay Reservoir. 
Salmon Region 
Williams Lake 
Williams Lake rainbow are naturally reproducing and often reach 16 inches. The trout in Williams Lake tend to suspend in the water column and favor Power Bait, worms or eggs. As winter progresses, anglers should fish closer to the surface because oxygen levels in the lake tend to become depleted, thus confining fish to the upper portions of the lake. Move around if you are not finding fish and change your bait often. Here's more information about Williams Lake. 
Jimmy Smith Lake 
This lake in the East Fork Salmon River drainage near Challis has become a popular ice fishery in recent years. Rainbow are the target species. Jimmy Smith Lake is about a half mile from the Big Lake Creek trailhead, and can be accessed by foot or ATV. Anglers should do well fishing with worms, corn, eggs, mealworms or PowerBait. Here's more information about Jimmy Smith Lake. 
Mosquito Flat Reservoir
For those more adventurous anglers, this reservoir northwest of Challis can be accessed by snowmobile or track machine during the winter months. While access may be more challenging, the 49-acre reservoir will offer anglers solitude, as well as trout and a recent addition - kokanee. Here's more information about Mosquito Flat Reservoir. 
Hyde Pond
What some anglers may see as this pond's weaknesses others may see as its strengths. Hyde Pond is small – about an acre – and about 4 miles south of Salmon, which makes it easy to get to. It's also easy to choose a place to fish instead of arriving at a larger frozen lake or reservoir and wondering where to start. So if you're getting a little cabin fever and want to get out of the house on a winter day, it's only minutes away from Salmon. Drill a hole, and hope you catch a few trout. If you don't, you can be back home in minutes. It was stocked with 400 trout in November, and chances are good many of them are still swimming in there. Here's more information about Hyde Pond. 
Getting started ice fishing
Ice fishing is essentially drilling a hole in the ice, dropping a bait or lure and waiting for a fish to find it. Nearly anyone can do it, so it's a fun to help novices catch fish, and all ages enjoy it. As you progress, there are lots more tackle, tricks and tools you can add to make you a better ice angler, but don't let that overwhelm you. It's also something all ages enjoy, so don't hesitate to bring kids, or invite friends and neighbors along to share the fun. 
You will need an ice auger, which can be found at many sporting goods starting at around $50 for a hand-powered auger, and more for a gas-powered auger or one that fits on a cordless drill. Nearly any fishing rod for trout or bass will work, and ice fishing rod/reel combos can be found for about $25. They can also be a lot of fun to fish with because even a modest-sized fish feels big.
After that, all you need is a hook, weight and bait to get started. Go with a worm, salmon egg, meal worms or other common fishing bait. Remember you have the whole lake or reservoir to fish, and fish are rarely evenly dispersed, so move around and try various depths until you find fish and what they're biting on. 
You may expand your tackle and add more ice fishing gear later to make the experience more productive and comfortable.
Getting out on the ice
One thing to consider is how to is get your gear on the ice, and an inexpensive kids' plastic toboggan can haul a surprising amount of gear. If you have a snowmobile or ATV, there are trailers and sleds that are great for hauling cargo, but remember, 10 inches of solid ice are needed to support an ATV or snow machine.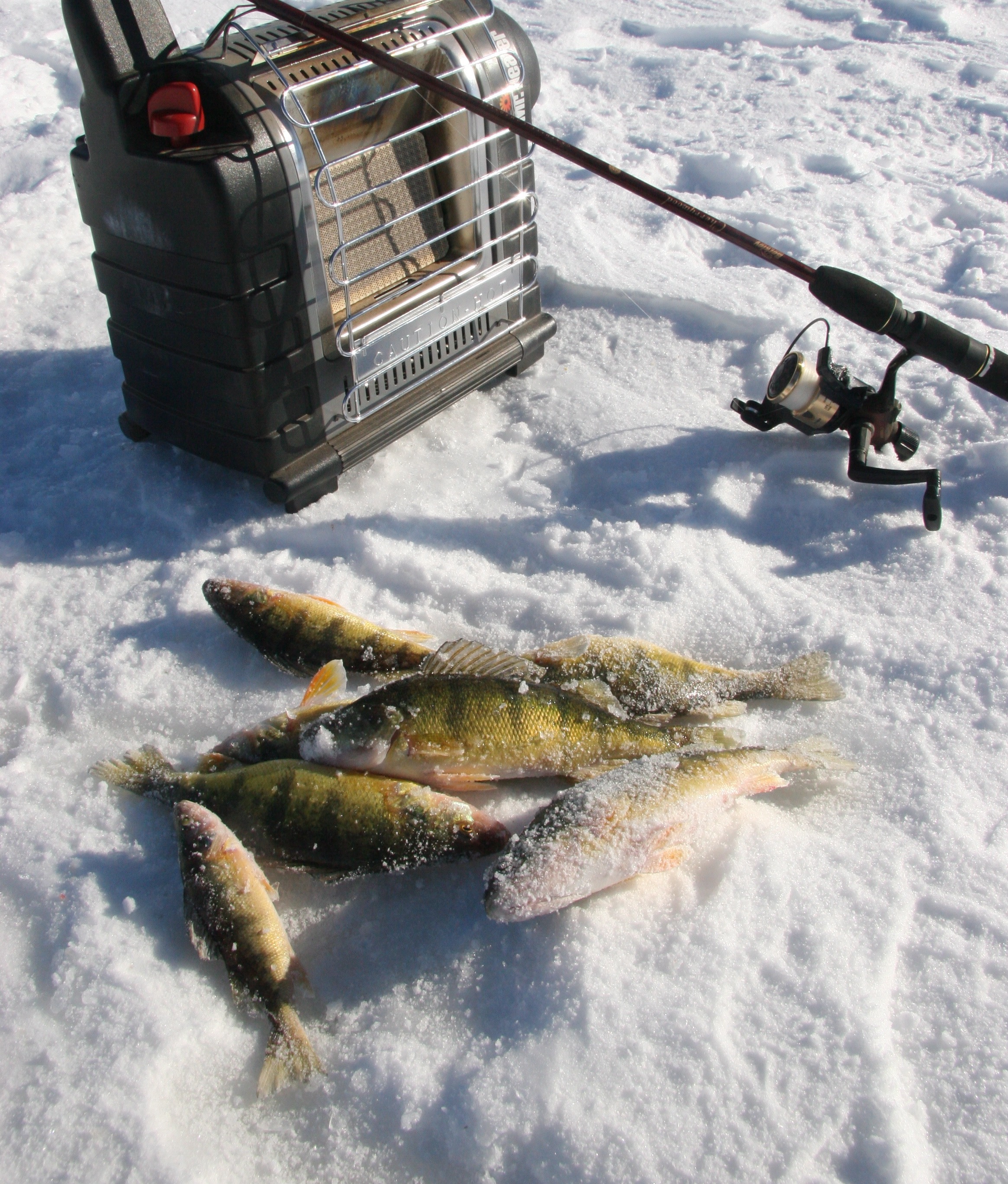 Dressing for ice fishing
There's no getting around it: it's dead of winter and you're standing on a sheet of ice. Dress in layers and add a warm hat and well-insulated gloves. You will be surprised how warm a sunny day on the ice can feel even when the thermometer is in single digits. Part of that is from radiant heat from the sun, but remember that even a cloud passing over the sun can make it feel noticeably cooler, and vice versa, so layers are important so you can shed and add clothes as needed. 
Be ready to catch fish, and maybe lots of them
Like all fishing, there are no guarantees the fish will bite, but ice fishing is different than other types of fishing because you can fish up to five different lines at once while ice fishing. When the fish start biting, it can be fast paced because you're trying to hook and land fish and keep all the lines baited and in the water. It's really fun, and it will get you hooked on ice fishing and make you want to keep coming back for more. 
To learn more about ice fishing, go to Fish and Game's ice fishing webpage.