Pheasant General Any Weapon Season
Management Area 3
Unlimited Tags
10/20/2019 - 11/30/2019
Species

Ring-necked Pheasant (Phasianus colchicus)
Rooster Ring-necked Pheasant

Only pheasant cocks may be harvested.
Shotgun or Archery

No person shall take upland game birds:

Except wild turkey, from one-half (1/2) hour after sunset to one-half (1/2) hour before sunrise. Wild turkey shall not be taken between sunset and one-half (1/2) hour before sunrise.
With a trap, snare, net, crossbow, or firearms EXCEPT a shotgun using shells not exceeding three and one-half (3-1/2) inches maximum length, slingshot, hand-held or thrown missiles, EXCEPT forest grouse. Forest grouse shall not be taken with a trap, snare, net, or crossbow. Crossbow may be used to take forest grouse by a person who possesses a Disabled Persons Archery Hunting Permit or a Special Weapon Reasonable Modification Hunting Permit authorizing use of a crossbow or by a person hunting in an area where crossbow is a lawful method of take for big game.
From any watercraft.
By the use or aid of any electronic call.
By the aid of baiting. Bait is defined as any substance placed to attract upland game birds.
When hunting on Wildlife Management Areas where pheasants are stocked without wearing at least thirty-six (36) square inches of visible hunter orange above the waist.


In addition to the methods listed above, wild turkey may not be taken:

With lead shot exceeding BB size.
With steel shot exceeding T size.
By the use of dogs, except during fall hunts.
Restrictions
Area 3 season begins at one-half hour before sunrise on opening day. Daily bag limit 3 cocks and possesssion limit of 9 cocks.

Limits on Fort Boise WMA (including Gold Island) in Canyon County, C.J. Strike WMA in Owyhee County, Birding Island segment of the Payette River WMA in Payette County, Montour Management Area in Gem County and Niagara Springs WMA in Gooding County REDUCED to a Daily Bag Limit of 2 cocks and a Possession Limit of 6 cocks after the first day of the season.

Shooting hours for upland game birds are from 10 am to one-half hour after sunset on the following WMAs where pheasants are stocked: C.J. Strike, Cartier Slough, Fort Boise, Market Lake, Montour, Mud Lake, Niagara Springs, Payette River and Sterling. Any person 17 years old or older hunting at these WMAs must have a valid WMA Upland Game Permit in possession. Each permit allows the take of six pheasants and multiple permits may be purchased.
Surface Management
Game Units
Wilderness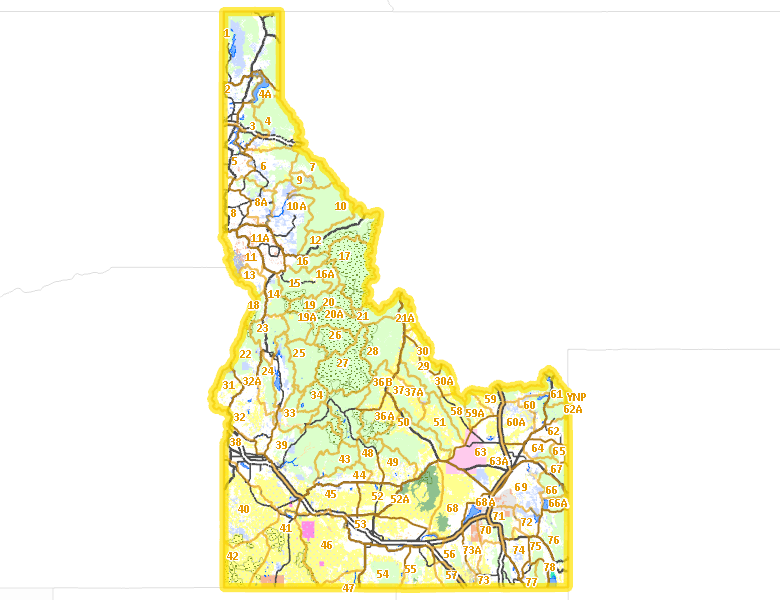 Management Area 3

Ada, Adams, Blaine, Boise, Camas, Canyon, Cassia, Elmore, Gem, Gooding, Jerome, Lincoln, Minidoka, Owyhee, Payette, Twin Falls, Valley and Washington counties (including all islands in the Snake River except Patch and Porter Islands). Area Size: 21,411,928 acres

View a
High Resolution Adobe PDF Map
of Hunt Area .
More information about the Game Management Unit(s) in this hunt:
18
19A
20A
22
23
24
25
26
27
31
32
32A
33
34
35
36
38
39
40
41
42
43
44
45
46
47
48
49
50
52
52A
53
54
55
56
57
68
Wildlife Management Area Pheasant Permit*

(17 and older)

Falconry Permit*

(Valid for 3 years from purchase year)

Handicapped Motor Vehicle Permit*
Wildlife Management Area Pheasant Permit*

(17 and older)

Falconry Permit*

(Valid for 3 years from purchase year)

Handicapped Motor Vehicle Permit*
A valid
hunting license
is required for all hunting and trapping activities.
* Indicates this item is optional.
Where to purchase
Learn more about IDFG Licenses, Tags & Permits

Surface Management
For government land, these data show the managing agency of the land, which may or not be the same as the owning agency.

U.S. Bureau of Land Management (BLM) 7,874,437 acres 36.8%

Private 6,094,539 acres 28.5%

U.S. Forest Service (USFS) 5,606,799 acres 26.2%

State of Idaho 964,016 acres 4.5%

U.S. National Park Service (NPS) 319,860 acres 1.5%

Indian Reservation / Bureau of Indian Affairs 145,276 acres 0.7%

U.S. Bureau of Reclamation (BOR) 137,615 acres 0.6%

U.S. Military 126,208 acres 0.6%

Other 58,173 acres 0.3%

State of Idaho 49,301 acres 0.2%

State of Idaho 11,584 acres 0.1%

U.S. Department of Interior (DOI) 6,295 acres 0%

U.S. Department of Agriculture (USDA) 4,525 acres 0%

U.S. National Wildlife Refuge (NWR) 3,952 acres 0%

Other 234 acres 0%

U.S. Corps of Engineers (COE) 146 acres 0%
Make your own map of Management Area 3
Land management via Inside Idaho
Access Yes! Properties
Access Yes! is Fish and Game program designed to improve hunting and fishing access to private land or through private land to public land by compensating willing landowners who provide access.
Federally-designated Wilderness Areas
No motorized vehicles are allowed in these areas.