Elk Controlled Hunt Landowner Permission Required Extra Antlerless Season
8/1/2019 - 9/30/2019
Species

Elk (Cervus canadensis)
Antlerless Elk

Only elk without antlers or with antlers shorter than 6 inches may be taken in any season which is open for antlerless elk only.
Any Weapon

Rifle, Archery, Muzzleloader, Shotgun, or Handgun.
Restrictions

Landowner Permission Hunt. Written permission from landowner who owns more than 159 acres in the hunt area is required to apply for this hunt. Landowner Permission Hunt Permits will be sold on a first-come, first-served basis at the Nampa, McCall and headquarters IDFG offices starting July 15. Do not apply for this hunt during the controlled hunt application period.
Private land ONLY. Landowner Permission Required see page 111 of the Big Game Seasons and Rules Booklet).
Surface Management
Game Units
Wilderness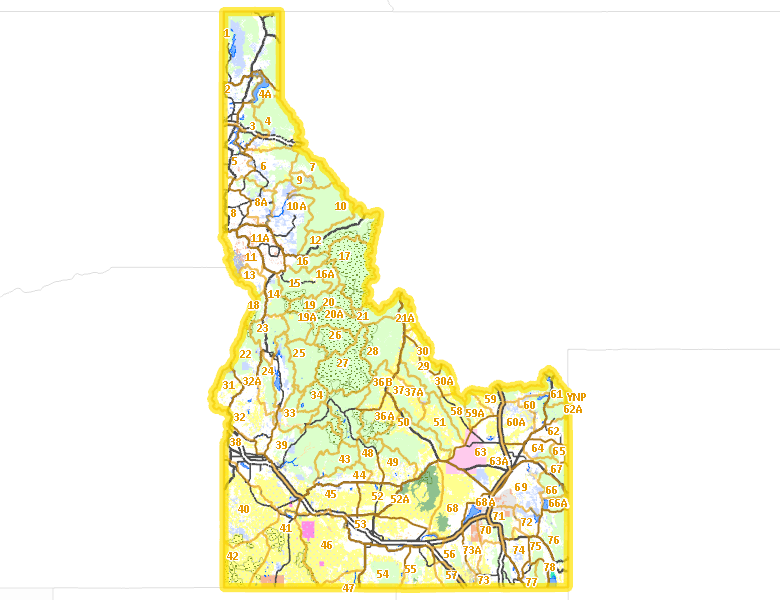 Hunt Area 68-1X

Private land within Unit 68. Area Size: 1,162,497 acres

View a
High Resolution Adobe PDF Map
of Hunt Area 68-1X
More information about the Game Management Unit(s) in this hunt:
68
Adult Elk Tag

Jr./Sr./DAV Elk Tag

Controlled Hunt Application Fee

Handicapped Motor Vehicle Permit*
Junior Mentored Elk Tag

Adult Elk Tag

Controlled Hunt Application Fee

Handicapped Motor Vehicle Permit*
A valid
hunting license
is required for all hunting and trapping activities.
* Indicates this item is optional.
Where to purchase
Learn more about IDFG Licenses, Tags & Permits

Surface Management
For government land, these data show the managing agency of the land, which may or not be the same as the owning agency.

U.S. Bureau of Land Management (BLM) 634,297 acres 54.6%

Private 346,673 acres 29.8%

U.S. National Park Service (NPS) 78,108 acres 6.7%

U.S. Department of Energy (DOE) 71,649 acres 6.2%

State of Idaho 24,391 acres 2.1%

U.S. Bureau of Reclamation (BOR) 4,083 acres 0.4%

Other 2,469 acres 0.2%

U.S. National Wildlife Refuge (NWR) 408 acres 0%

State of Idaho 294 acres 0%

State of Idaho 125 acres 0%
Make your own map of Hunt Area 68-1X Elk Controlled Hunt 2191
Land management via Inside Idaho
Access Yes! Properties
Access Yes! is Fish and Game program designed to improve hunting and fishing access to private land or through private land to public land by compensating willing landowners who provide access.
No properties are currently available in this hunt area.
View all Access Yes Participants.
Federally-designated Wilderness Areas
No motorized vehicles are allowed in these areas.
There are no wilderness areas in this hunt.