Deer General Short-Range Weapon Season
Portion of Units 45 and 53
Regular Deer Tag Unlimited Tags
8/30/2019 - 11/6/2019
Species

Mule Deer (Odocoileus hemionus)
White-tailed Deer (Odocoileus virginianus)
Either-sex Mule and White-tailed Deer

Either sex may be taken.
Short-Range Weapons

Muzzleloader, Archery, Crossbow, Shotgun or Handgun.
Restrictions

Motorized Hunting Rule (MHR): Motorized vehicle use by all big game hunters is restricted to established roadways legally open to travel by full-sized automobiles. The motorized hunting rule applies only to big game animals, including moose, bighorn sheep and mountain goats, in designated units from August 30 through December 31. Learn more about the Motorized hunting Rule at idfg.idaho.gov/hunt/access/motorized-vehicles
That portion of Unit 53 west of U.S. Highway 93. The rest of Unit 53 is controlled hunt only.
Surface Management
Game Units
Wilderness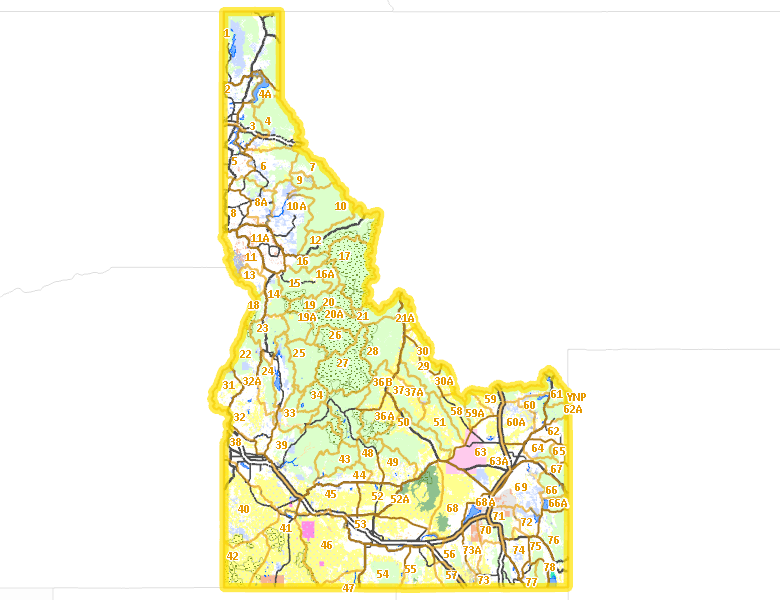 Portion of Units 45 and 53

That portion of Unit 53 west of US Highway 93 and that portion of Unit 45 south of Interstate 84. Due to routing changes made to U.S. Highway 93, the eastern boundary for Unit 53 is: Beginning at the junction of U.S. Highway 93 and U.S. Highway 30 (east of Filer), north along Hwy 93 turning east at the junction of Polline Road, continuing east to Blue Lakes Blvd, then north across the Perrine Bridge following U.S. Highway 93 to U.S. Highway 26 in Shosone. Area Size: 356,381 acres

View a
High Resolution Adobe PDF Map
of Hunt Area Regular Deer Tag
More information about the Game Management Unit(s) in this hunt:
45
53
Adult Deer Tag

Jr./Sr./DAV Deer Tag

Handicapped Motor Vehicle Permit*
Junior Mentored Deer Tag

Adult Deer Tag

Handicapped Motor Vehicle Permit*
A valid
hunting license
is required for all hunting and trapping activities.
* Indicates this item is optional.
Where to purchase
Learn more about IDFG Licenses, Tags & Permits

Surface Management
For government land, these data show the managing agency of the land, which may or not be the same as the owning agency.

Private 264,707 acres 74.3%

U.S. Bureau of Land Management (BLM) 68,608 acres 19.3%

State of Idaho 16,429 acres 4.6%

Other 2,604 acres 0.7%

State of Idaho 2,499 acres 0.7%

State of Idaho 1,445 acres 0.4%

U.S. National Park Service (NPS) 53 acres 0%

U.S. Bureau of Reclamation (BOR) 35 acres 0%
Make your own map of Portion of Units 45 and 53 Regular Deer Tag
Land management via Inside Idaho
Access Yes! Properties
Access Yes! is Fish and Game program designed to improve hunting and fishing access to private land or through private land to public land by compensating willing landowners who provide access.
No properties are currently available in this hunt area.
View all Access Yes Participants.
Federally-designated Wilderness Areas
No motorized vehicles are allowed in these areas.
There are no wilderness areas in this hunt.