Deer General Short-Range Weapon Season
10/10/2014 - 10/31/2014
Species

Mule Deer (Odocoileus hemionus)
White-tailed Deer (Odocoileus virginianus)
Antlered Mule and White-tailed Deer

Only deer with at least one antler longer than 3 inches may be taken in any season which is open for antlered deer only. In antlered-only seasons, antlers must accompany the carcass while in transit.
Short-Range Weapons

Muzzleloader, Archery, Crossbow, Shotgun or Handgun.
Restrictions

Very limited access due to few roads, and private property. Only a portion of the unit is open to hunting
That portion of Unit 38 within the Lake Lowell Sector of the Deer Flat National Wildlife Refuge is controlled hunt only.


Hunt Area Location
Hunt Area
Unit 38*

All of Unit 38 except that portion of Unit 38 within the Lake Lowell Sector of the Deer Flat National Wildlife Refuge is closed. Area Size: 1,262,585 acres
Map Options

View a
High Resolution Adobe PDF Map
of Hunt Area Regular Deer Tag

Download
Download KMZ (Google Earth)
file of this hunt for your GPS Unit.
Open the
Interactive MapCenter
to explore this map.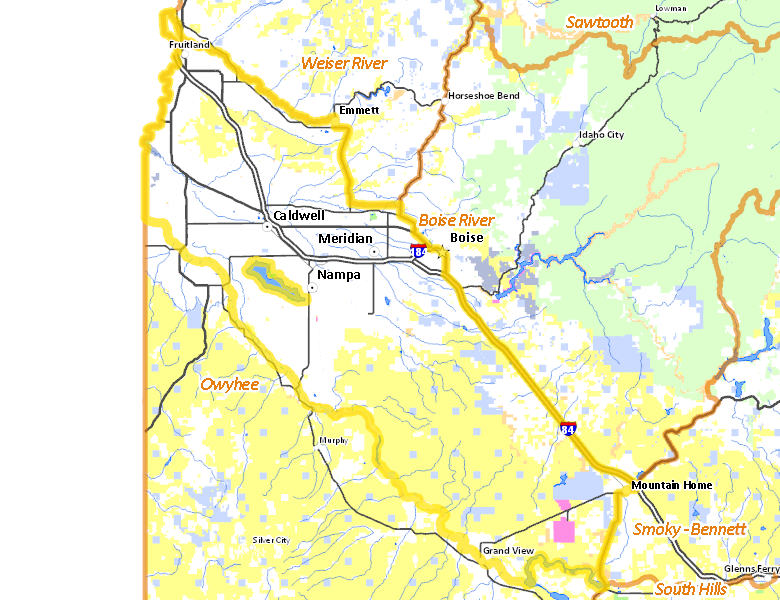 More information about the Game Management Unit(s) in this hunt:
38
Statistics
No historical hunts resemble this hunt or harvest statistics are not currently available for this opportunity.
Tags, Permits & Fees
Resident Tags, Permits, and Fees
Adult Deer Tag $19.75

2014

Jr./Sr./DAV Deer Tag $10.75

2014
NonResident Tags, Permits, and Fees
Junior Mentored Deer Tag $23.75

2014

Adult Deer Tag $301.75

2014
* Indicates this item is optional.
Where to purchase
By phone & credit card:
1-800-554-8685
Learn more about IDFG Licenses, Tags & Permits

Landscape Characteristics and Access
Surface Management
For government land, these data show the managing agency of the land, which may or not be the same as the owning agency.

Private

58.98%

U.S. Bureau of Land Management (BLM)

32.85%

State of Idaho

5.03%

Other

1.17%

U.S. Bureau of Reclamation (BOR)

1.1%

U.S. Military

0.62%

U.S. National Wildlife Refuge (NWR)

0.05%
Make your own map of Unit 38* Regular Deer Tag
Land management via Inside Idaho
Access Yes! Properties
Access Yes! is Fish and Game program designed to improve hunting and fishing access to private land or through private land to public land by compensating willing landowners who provide access.
Forest Service Land
Check for road and area closures on National Forest websites
No National Forest lands overlap this hunt area.
Federally-designated Wilderness Areas
No motorized vehicles are allowed in these areas.
There are no wilderness areas in this hunt.
Land Use/Land Cover

Rangeland

47.03 %

Irrigated-Gravity Flow

36.1 %

Irrigated-Sprinkler

7.9 %

Urban

5.66 %

Dryland Agriculture

2.38 %

Riparian

0.49 %

Water

0.41 %
Make your own map of Unit 38* Regular Deer Tag
1990 Land Use/Land Cover based on Anderson et al scheme via
Idaho Department of Water Resources
Maps