Furbearer General Any Weapon Season
Southwest Furbearer Region
Unlimited Tags
12/14/2013 - 2/16/2014
Species

Bobcat (Lynx rufus)
Either-sex Bobcat

Either sex may be taken.
Any Weapon or Trap

Rifle, Archery, Muzzleloader, Shotgun, Handgun or Trap.
Restrictions

YOUTH HUNT: ONLY hunters 12-17 years of age with a valid license and tag may participate in this hunt.
Motorized Hunting Rule (MHR): Motorized vehicle use by all big game hunters is restricted to established roadways legally open to travel by full-sized automobiles. The motorized hunting rule applies only to big game animals, including moose, bighorn sheep and mountain goats, in designated units from August 30 through December 31. Learn more about the Motorized hunting Rule at idfg.idaho.gov/hunt/access/motorized-vehicles


Hunt Area Location
Hunt Area
Southwest Furbearer Region

Ada, Adams, Boise, Canyon, Elmore, Gem, Owyhee, Payette, Valley and Washington Counties. Area Size: 14,028,928 acres
Map Options

View a
High Resolution Adobe PDF Map
of Hunt Area

Download
Download KMZ (Google Earth)
file of this hunt for your GPS Unit.
Open the
Interactive MapCenter
to explore this map.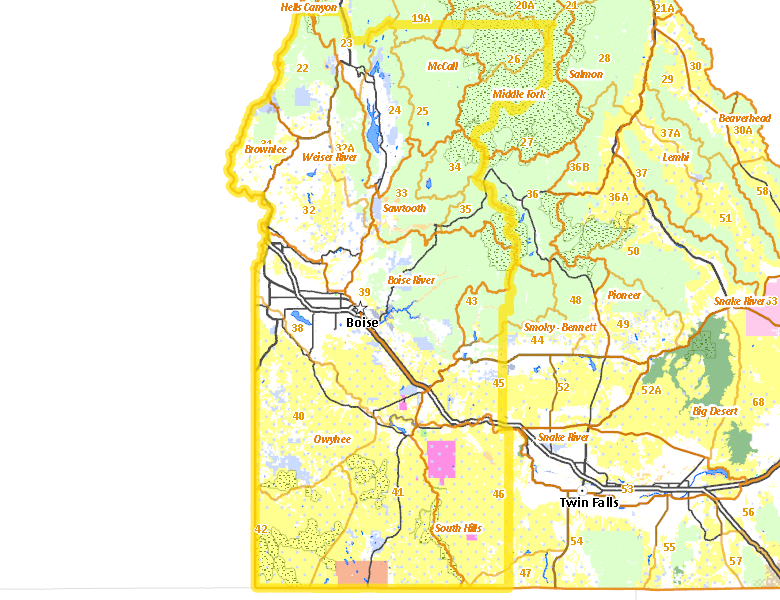 More information about the Game Management Unit(s) in this hunt:
18
19A
20A
22
23
24
25
26
27
31
32
32A
33
34
35
38
39
40
41
42
43
44
45
46
47
Statistics
No historical hunts resemble this hunt or harvest statistics are not currently available for this opportunity.
Tags, Permits & Fees
No resident tags are necessary.
No non-resident tags are necessary.
* Indicates this item is optional.
Where to purchase
By phone & credit card:
1-800-554-8685
Learn more about IDFG Licenses, Tags & Permits

Landscape Characteristics and Access
Surface Management
For government land, these data show the managing agency of the land, which may or not be the same as the owning agency.

U.S. Bureau of Land Management (BLM)

36%

U.S. Forest Service (USFS)

30.81%

Private

24.47%

State of Idaho

5.66%

Indian Reservation / Bureau of Indian Affairs

1.04%

U.S. Military

0.9%

U.S. Bureau of Reclamation (BOR)

0.74%

Other

0.31%

U.S. National Wildlife Refuge (NWR)

0.01%

U.S. Corps of Engineers (COE)

0%
Make your own map of Southwest Furbearer Region
Land management via Inside Idaho
Access Yes! Properties
Access Yes! is Fish and Game program designed to improve hunting and fishing access to private land or through private land to public land by compensating willing landowners who provide access.
Forest Service Land
Check for road and area closures on National Forest websites
Federally-designated Wilderness Areas
No motorized vehicles are allowed in these areas.
Land Use/Land Cover

Rangeland

52.62 %

Forest

35.8 %

Irrigated-Gravity Flow

6.04 %

Irrigated-Sprinkler

2.23 %

Riparian

1.8 %

Urban

0.68 %

Dryland Agriculture

0.42 %

Water

0.39 %

Rock

0.02 %
Make your own map of Southwest Furbearer Region
1990 Land Use/Land Cover based on Anderson et al scheme via
Idaho Department of Water Resources
Maps