Not sure if it's a Black Bear or a Grizzly?
Visit our Bear Identification Program
to learn the difference! School your friends with our new
Bear Exam.
Search Tools

Maps

Statistics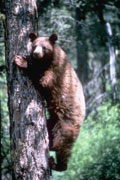 Black Bear
Species
Black Bear

Ursus americanus Species Info | Images
* Species Info from Idaho State University's Digital Atlas of Idaho (where available) or USGS Patuxent Wildlife Research Center's Patuxent Bird Identification InfoCenter.
* Images displayed using Google Image Search. Note that images in Google's results may be copyrighted. Uncopyrighted images are available on this page.
Hunts and Distribution
Where to go.


Units with Bear Hunting Opportunities
View all bear hunting opportunities
Quick Links