Located on the southwest side of Pickles Butte, southwest of Nampa, the Nourse Range is part of 1,350-acre Jubilee Park, operated by Canyon County Parks and Waterways.
There are nine "shooting lanes" of various sizes and lengths, separated by earthen berms.
Each range has a firing line established using large wooden boxes suitable for bench rests. There is no seating. The boxes are marked with available yardage for that lane, from 43 to 97 yards.
Rifle, pistol, and shotgun shooting are all allowed at the range.
Restroom facility on site.
No cost to use range.
Open seven days a week; daylight hours.
To Reach the Range:
From Nampa travel south on Highway 45 to Missouri Avenue (GPS: N43° 29.180' W116° 34.235');
Turn west and travel six miles to Farner Road (GPS: N43° 29.277' W116° 41.576');
Turn south and travel ½ mile to Ross Lane (GPS: N43° 28.627' W116° 41.578');
Travel one mile west to Nash Lane (GPS: N43° 28.616' W116° 42.768');
Travel an additional mile to the range. (Range GPS Location: N43° 29.070' W 116° 43.490')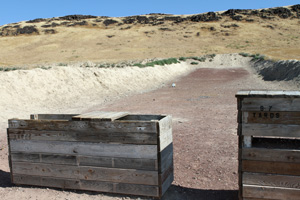 Large wooden boxes for use as bench rests.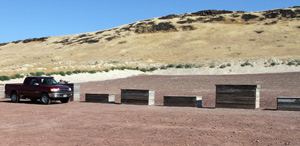 Nine shooting lanes of various sizes and lengths.