Over half a million Idahoans participate in wildlife watching activities annually. Watching wildlife is one of the most popular types of outdoor recreation in Idaho.
Whether you are travelling to one of Idaho's mountains, forests, deserts, or rivers, to bird watch, view wildflowers, or snap a few photos - Idaho's Watchable Wildlife Program makes that experience as rewarding as possible.
The Idaho Watchable Wildlife Program is a part of Idaho Department of Fish and Game's Wildlife Diversity Program. It is guided by the Idaho Watchable Wildlife Committee, a collaborative group of local, state, and federal agency representatives and conservation organizations that promotes:
an appreciation for wildlife and their habitats,
wildlife-based tourism,
responsible wildlife observation ethics for the citizens and wildlife of Idaho.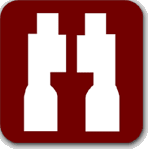 Look for the binocular sign along roads and highways to find areas
for good viewing wildlife opportunities.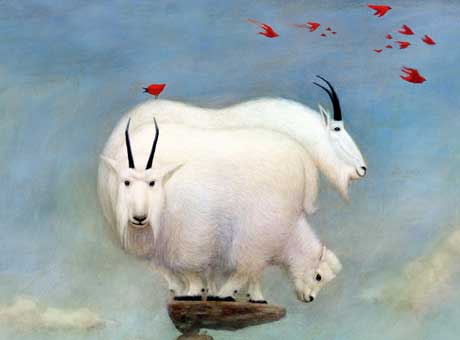 "Purchase a poster honoring one of Idaho's iconic watchable wildlife species - the mountain goat!"
$10 unsigned
$50 limited edition signed by artist, Bill Carmen.
Mail check, payable to
Watchable Wildlife
to:
Watchable Wildlife Program
PO Box 25
Boise, ID 83707
Watchable Wildlife Annual Events
Dubois Grouse Days, Dubois, ID - 3rd Weekend in April

Annual celebration of sage grouse.
In the spring, sage grouse gather on sage-brush covered "leks" where the males compete for females. Males fan their plumage, "dance," and display their air sacs to attract females.
Field trips to sage grouse leks, lectures, children's activities, a raffle, and a banquet are all a part of this small town Idaho event.
For more information, visit: Dubois Grouse Days.

International Migratory Bird Day, Statewide - 2nd Weekend in May

An international event to celebrate migratory birds and teach people about the importance of preserving habitat for birds.
Several celebrations occur state-wide: In the Treasure Valley, events are held at MK Nature Center, The Peregrine Fund, and Deer Flat National Wildlife Refuge.
For more information on events in the Treasure Valley or state-wide, contact Deniz Aygen or call (208) 287-2750, or a regional office.

BioBlitz-Deer Flat National Wildlife Refuge, Nampa, ID - 3rd Weekend in August

The Bioblitz is a 24-hr rapid inventory of biological diversity.
BioBlitzes are held nationwide and this is the only one in Idaho.
Scientists, naturalists and volunteers will search Deer Flat National Wildlife Refuge for two days documenting every species they can find.
From 10:00 a.m. to 3:00 p.m. the public is invited to the refuge to get involved in the biology of Idaho and visit the festival in the backyard of the refuge Visitor Center. Great for families!
For more information, call 208-467-9278, or visit: Deer Flat Wildlife Refuge.

Holiday Bird Seed Sale, MK Nature Center, Boise, ID - 1st Saturday in December

Stock up on birdseed for the winter and get tips on bird feeding.
This annual event allows you to purchase bird seed in bulk.
Holiday nature gifts and bird feeding accessories are also available for purchase.
Your purchases help support the Nature Center's educational programs.

EagleWatch, Coeur d'Alene, ID - Last week in December

Join volunteers and wildlife biologists at the Coeur d'Alene Lake - Wolf Lodge Bay wildlife viewing area.
Observe 30 - 60 bald eagles feeding on the lake's spawned kokanee salmon.
Attend presentations, learn from the eagle exhibits and watch hundreds of waterfowl.
For more information, visit: Eagle Watch.